We conclude the series of portrait-interviews dedicated to the women who make our everyday wine with Anca Maria Vladoi. You probably know the first names from the labels of some provocative wines (provoking thoughts and questions, naturally!), and about the Vladoi family, you may or may not know that they are (at least) the fourth generation of wine makers, with roots in Dragasani and with a well-defined goal of making the Murfatlar name great again, on the map of high-quality wine-producing regions.
Which was the moment when you realized that your personal destiny is linked to wine?
I think I can dare to say that wine has always been in my genes. I was born with it, grew up and lived in a vineyard and next to wine for all my life and I don't think I ever wanted anything else. It is a family heritage – my father, great-grandfather and great-grandfather made wine. The great-grandfather was from Dragasani, he founded the village of Siminoc in Murfatlar together with other families from Dragasani, they brought vines from there and planted them here in between the two World Wars. Since then, out family has been connected to wine for life.
I had a moment when I wanted to try something else, at the end of high school I wanted to go to Horticulture, following my father's guidance, but also to a Marketing school, for my own pleasure. I went only for one semester the the Marketing school, then I finished Horticulture in Constanta and got a master's degree at USAMV, in Bucharest.
I learned marketing later, as I was involved directly in the market, I remember that at the beginning we were proud to let people know we were from Murfatlar – and we still are proud of it, but it took time, work, the launching of other producers, including M1, to make this name once again attractive those who love high quality wine.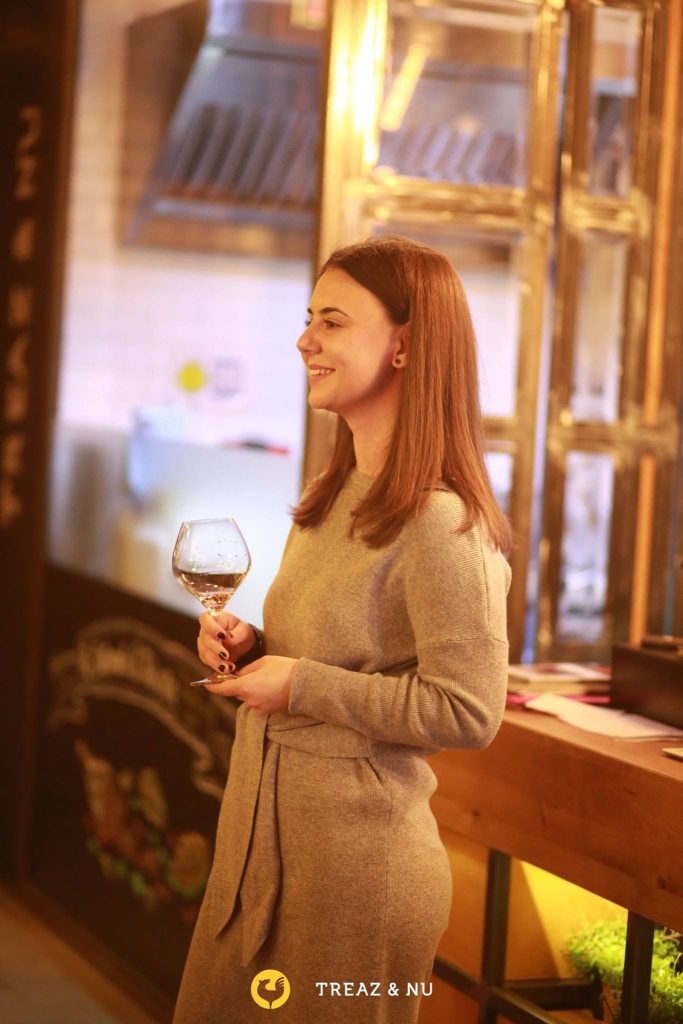 What style of wine do you prefer, in general?
Taste evolves and changes all the time. When I first got to know wine, I preferred fresh, explosive, New World style wines. Now I prefer something more classic, more complex, something to enjoy, a wine that can be a dialogue partner. Among the favorites is the oaked Chardonnay, but one that maintains its varietal characteristics, and the wood adds exactly what and how much it needs…
Which was the perfect, memorable pairing, where everything fell into place?
I think it happened during a normal afternoon, towards evening, in autumn, we were the whole family, at home. We had shrimp pasta, with an oaked Chardonnay, as I said… I don't know how perfect the pairing was, but at that moment it felt perfect, but the pairing was in fact with the joy of being together, with that day, that sun, that temperature… All together created a perfect moment.
How do you choose different wines (brands or styles) depending on certain moments – for the season, for an anniversary, for warm or friendly conversations, for sophisticated dinners or as everyday wines?
Somehow, I think I chose my wines a long time ago. The wine depends a lot on the moment, if you are in a bad mood, you don't enjoy even the best wine. Moreover, the same wine can be – and is – different from one day to another, from one hour to another. I want a bit of relaxation, a glass of wine with a good meal, preferably not a light wine or basic varietal, but rather something more difficult to understand, something deeper, like a Riesling or a Chardonnay, possibly.
But every day has its specifics. There are long periods in which I taste Sauvignon blanc daily, by virtue of my job. Then there are the campaign days, in which I have to taste all the wines, on a daily basis. Or there are days when you feel the need for a red wine, especially if the food calls for it.
How much decision-making power do women have in the Romanian wine market?
I have just finished my visit to the Vicii si Delicii (Guilty Pleasures / Vice and Delights, approx.) fair in Timisoara, and I can say that it is already clear that the women have something to say. Men who make wine judge keeping this separation in mind, they make wines "for them", while wines "for women" must be fresher, more aromatic. Women do not operate with this concept.
Moreover, I am glad to see that more and more women participate in fairs and tastings, and that women's interest in wine has increased a lot. This means that they will have greater decision-making power – this in terms of the public, the final consumer. In the industry, within it, people should know that it is a hard job, really.
This is probably why so many people are surprised when they hear that there are women oenologists, women in the vineyard, in production. But I'm glad that I noticed one thing – when they hear that a wine is made by a woman, people are more interested, both men and women. Maybe their curiosity pushes them, maybe they already know what to expect from a male oenologist… Probably because you don't know what to expect from a wine made by a woman. In Timisoara, our star was a white Cabernet Sauvignon, so the element of surprise, the novelty matters just as much.
What do women know about wine that men don't (yet) know?
Maybe they have a better feeling about what the right amount is. They know how to drink a glass of good old wine, not spritz, and enjoy it, without feeling the need to finish the bottle or to show their friends how many bottles they can drink in one evening. Beyond the excess, I feel that, in a way, men drink out of habit, and women drink for pleasure.
We temporarily halt our tribute to all the women who make the world of wine more beautiful or interesting, as March has ended. Be it management or sales, oenology, viticulture, laboratory, accounting, logistics – women are everywhere and they have a say. Oftenly, things to consider and remember – so you will soon be able to read a summary of the things we understood from the relationship between women and wine.
Until then, also read about: