Interview with Marcel Vulpoi, co-owner of Gramofon Wine
In our recent podcast episodewe met a relaxed Marcel Vulpoi, with a zest for life (just like his wines), full of jokes and passion for all aspects of his work. So we wanted to deepen the discussion and came back for stories with wine, art, theater and many things dear to the soul. And the co-owner of Gramofon Wine, obviously, did not disappoint us.
Wines of Romania: It became obvious, from the episode of the podcast that aired quite a while ago, that you are a man of the world, a hedononist who wants to live his life with a smile on his face. If we were to go back in time, I guess you got the taste for partying in college… Where did you spend it?
Marcel Vulpoi: In Agronomy. I was from Ramnicu Sarat, and at first I stayed in the worst home that the ASE had, at Mecanica Fina, in Obor. The most hardcore home ever! After the first year, from the second to the fourth year, between '96 and 2000, I stayed in Agronomy, where all the beautiful things happen. You learn to connect with people from all walks of life… . It's a place full of experiences. . It was not among the elite homes of the Academy of Economic Studies but, although after the second year I had a good enough average to stay in the best home, in Moxa, Cihoski or anywhere, I preferred to stay in Agronomy, because a cool gang of boys had been made there. And, to make you an exclusive disclosure, I didn't drink or smoke until I was 27! Nothing! Zero! Nothing! Zero!
WoR: And when did you come across wine?
M.V: Well, after that. My wife said to me "baths, you have no vice? I talk to my girlfriends and I have nothing to say to them". And I said nah, for the sake of marriage, I'm going… That's how we got, slowly and slowly, to the wine. I had discovered the armagnac, although I didn't even know what that was, and the cigar, to be the thing lined up. I didn't drink vodka, I still don't drink vodka, I don't feel anything about that drink.
WoR: When did the business start to work, how much can you afford these pleasures?
M.V.: From the first year of operation, in 2004. In the first ten years the turnover doubled from year to year. We had the figure in the first year of 25,000 euros… Now we have another double-digit growth, 17-20%, steady, for seven to eight years. There can be no question of doubling…
WoR: Well, like wine, right? It's easy at first to grow from scratch to a few hundred bottles and to appear in the papers increases of thousands per cent.
MV: Haha, exactly. As in the case of customers who do not have much activity at first and I charge them 200 euros, then when the job starts, I charge them 400, and they jump immediately: "well, what do you do dom'le, you doubled me"? And I tell them that that's not doubling, the doubling was if the salt from ten thousand to twenty thousand …
WoR: When did you first come across a wine that made you think it was more than just a drink or an occasion for dizziness?
MV: Since I started later, I skipped this stage of cheap and bad wines and started to drink good wines directly.
WoR: On the recommendation of friends, of the sommelier in the plague?
MV: I didn't have such sophisticated friends at the time. The sommelier's recommendation and a bit of my profane thinking, an analysis in terms of price – if it's 70 euros, it's probably decent. Or at least you're less likely to give it to the bar One of the funny stories from that period is related to this price analysis. I was about 28-29 years old, I went to Geneva to meet with a super-consultant and my client. Both of them were aphoning in wine, and me, and my client. And the sommelier asks us if we want a wine from the list or if we want to go with it to the cellar to choose. Consulting asks me "Why don't you go Marcel"? I, completely afon, I look desperately at the client, he was looking at me… And I read them in my eyes something like "Bathrooms, be careful what you choose from there! Let's not leave any kidneys or livers around here", as in the list we had seen wines from 50 to 3-4 thousand euros. And I said let's take it logically First of all, not France, that there is a risk that you will not have heard of it but pay a fortune. After that. After that. You don't have to go in 1960-70, as's certainly four figures, but nowhere else, as after that you seem cheap. And it was an educated guess, as they say. I said to be Italy, in six years, no more than ten, I said not to take Brunello, because I too seem from the countryside, so I chose a Barolo. While I sat at the table, I was stressed, like the sommelier, and consulting kept praising the choice… But it was good, it was only 180 euros, when I saw the note, my fear passed. And that's how it stayed for a long time, educated guess, plus what any wine lover does – find one you like and stay with it. For a long time I liked Amarone – and so was born our Feteasca Neagra, and in the semi-dry version, and not to mention the Opus, where the grapes were already raisins when I picked them. Alas, as it was then! It was the first year I was an associate and I picked up late… When I saw that out of three and a half hectares there are barely a few hundred liters of mash coming out, I was stuck. Total damage! What the hell did I get myself into?". There had been drought and I was watching a bucket of grapes fill up at ten stumps and I didn't understand what the hell was going on, in this hall money is lost here?
WoR: Well, that's how you become a millionaire by investing in wine. You have to start millardarly… When you met Marcel Paascu (founder of Gramofon Wine, n.r.) – first a client for accounting – did he need investments or not?
MV: He had, clearly. I mean, he was making good wines, but that's the problem – I'm also explaining it to my students in classes – this is about vocational entrepreneurs. They are the weakest entrepreneurs. Look at the restaurants in Bucharest – full of talented chefs, who know how to make super food, but who want to have everything screaming. He put one 400,000 euros in the arrangement of a restaurant, that he wants to be the most beautiful of all – but he had a five-year lease. That is 7-8 thousand euros per month go only to amortize the investment, not to mention salaries, taxes … But that's what the man liked. And a lot of people have that problem. That's why I say that in every business there must be two people. One who knows the product well and one who knows how to sell it. Or, if the owner knows how to sell, bring one who knows how to do it. If the one who knows how to do is the same as the one who knows how to sell, the chances of going to head the whole business are very high, I can give a few hundred examples here. We, at Gramophone, shared our tasks very well.
WoR: Out of this zest for life, now – when you have the wine cellar, you have a party place – how has your social life changed?
MV: Well, I made a lot of new friends and acquaintances. When I opened the wine bar in Cotroceni, I stayed there for a month, because I always said I was learning from the customers. Honestly, all the businesses I've done, I've done because I've listened to clients. I didn't do the archiving firm because I had some metaphysical flashes, I did it because they were telling my clients what they needed, as well as the OCR-ization, optical character recognition. The same at the wine bar, I wanted to stay for a month – two there to see what people are waiting for, what the customers are looking for. And people would come and tell me "I came here because I heard it's cool and you can drink with the patron, he explains what it's like with the paintings, what it's like with the wine", hehe… And, talking to them, I found out what they want, what they expect.
WoR: That's at the wine bar. At the wine cellar?
MV: The wine cellar is even more beautiful! Well, when we do those glorious parties of over 100 people – as it comes, we now have Agurida Party, as in my countryside, it makes sour soup with agurida, with beaten egg, that dream food from grandparents … You can see with the naked eye that I like to be there, to hang out with people. At these parties, if we get out break even, we wonder what a successful party it was. I mean it's usually the hole, but it doesn't matter, it's not about profit, it's about friendship. And of long-term thinking – in my opinion, all the businesses that succeeded were designed on a long-term basis. Not from one day to another, to say that at a party of 120 people you have to stay with 2,000 lei. Let him money! You don't have to scratch, put there a piece of cheese and a piece of bread and say that, that's it!, you did the tasting… In my backyard I want there to be joy, joy, abundance. To me it's always been like that. And at the wine bar, I said to the guys – May, that man comes and sits at the table, he didn't get his food, it doesn't matter why, take them and you guys something, ten slices of sausage, fifty grams of cheese, two pieces of baguette, on the house. And there's a double win here, there's no loss. Do you know when you went to La Mama and gave you those three olives? That was the best job out there, I don't remember anything I was ordering, but I know those olives. So with us, man likes to receive something, he feels good. And, from experience, when he tastes cheese, he tells himself that another wine would go, if it still felt good. When you think about it in the long run – how much can three pieces of cheese cost you?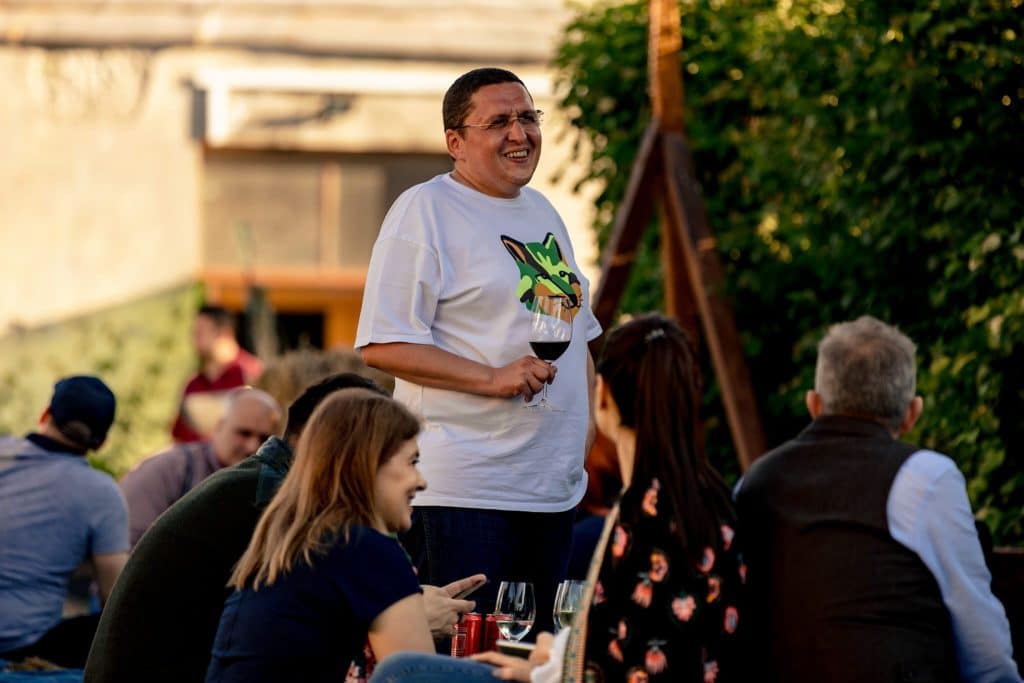 WoR: Now that you spend a lot more time in the wine world, how do you see our wine consumer?
MV: I see that the structure of the class of wine consumers is changing. And I see that we have a consumer who is very easy to influence, but at the same time looking for discoveries. I look at those who are coming back, thirty-a-bit years old – in our country, at the wine bar, for example, the average age is 35-40 years, for me it was a total shock, because I was only expecting people over 50, who would spin the glass, to sit with their noses in it. to count the seconds of aftertaste… And I see how young people have the pleasure of sharing their discoveries. "Wait, don't take that one, wait and see what I found. Have you tasted the Domain of Aristita?" – for me it's an enormous joy. Just on Saturday I met with a gentleman who told me that he discovered the Domain of Aristita, a Feteasca Neagra, and since then, only that one drinks. Because he discovered him, that's the pleasure, to go to his gang of friends and show them what he discovered. And with Gramophone it's the same, my clients come to the wine bar with the gang, I show them the wine, I tell them about the clone of Chardonnay Mousqué, which I don't know if anyone else brings around here, I tell them about the wild yeasts … A whole story. And they, in turn, become the best ambassadors. With the houses made in the vineyard, the same story. A youtuber came with a challenge, "how to survive 24 hours in the smallest house in Romania" – even so, with this cacophony, he put the title – and made 210,000 views in a few days. And he looks at a child, goes to his father and says "come on, Daddy, let's do a challenge of this, take mommy and come on there!". It changes the job. For us, the fact that the world does not know us is an advantage, although it should be a disadvantage. People are still discovering us and enjoying the discovery. If I come to the wine cellar, I hear the whole story, I see the paintings, I understand what we want to do… they become ambassadors, they want to tell the world what they understood, to show what they liked.
WoR: As it's been a few times about paintings: what are the principles by which you build your art collection?
MV: Hehehehe, educated guess! I have friends who are much better than I am at everything I do, meaning they are curators, and they recommend me painters with potential. For me, the job is simple, if I like it, I take it, if not – no.
WoR: So you don't run after Tonitza, Grigorescu…
MV: No, no, I've never had trophies. There are also trophy hunters, collectors who have to give ten thousand to see the neighbor, when he comes to grill, that they took Grigorescu. To me it's like wine, I like discovery. It's great when I discover an artist and I see, after 6-7-8 years that he is successful. Look, here on the desk is a sculpture by Felix Aftene, who now sells a painting for 25,000 euros. Now I have another painter that I bet on, who made the two canvases there, Manuell Manastireanu. It's all about discovery, it's not necessarily an investment. It's also a soul, that if it was just an investment, I could sell a thousand paintings until now, with double, triple or ten times the amount paid for the purchase. But no, than to take a painting and not put it on the wall, not to enjoy it, I better not take it. Anyone can tell me that they're going to increase its value – I'm only interested in enjoying myself. They are artists whose share has exploded. If I didn't like it, I didn't buy, neither then nor now.
WoR: It's also an important support for young artists…
MV: That yes, I really had a funny story recently. I bought, I don't know if you saw, right at the entrance, on the right, there's a painting of a fox in the enchanted forest. There was at an exhibition a girl of 15-16 years old, a mititica child… Matei Andrada's name is, she's from Tonitza. The exhibition, at the Museum of the Romanian Peasant, was very cool – seven good contemporary painters chose seven promising children to teach them. And I go to the kid and ask her how much she wants to sell the painting. She – shocked, had not sold any paintings. And he started to calculate how much he gave on the canvas, on the colors… And I told him to finish with the crap, that you can not calculate the price of Brancusi by how much he gave on the stone, chisel and hammer. In the end, I offered her a price – to understand, I could not get a price out of it – for both paintings in the exhibition. The second one didn't want to sell it, she wanted to keep it in her room. And I had to explain to him that the painter could not get attached to his works, that art is made to be seen, admired by as many people as possible, to circulate.
WoR: And you help art circulate and be seen…
Yes, this is also one of the reasons why I made the wine bar and I am now preparing the space at bragadiru palace. Iures is going to be there, we open in September. It's going to be a tasting like you've never seen before, and I think you've seen thousands. Here at Bragadiru, I am associated with George Remes, who has the Godot Theatre. I told him to do something completely different, to tie the wine to the theater. And he came up with a piece in English, Vino Veritas, believe me I couldn't get it out of my hand, I read it on the breathless. It's a play about two couples coming back from vacation, with some exotic wines, people start drinking and start telling the truth. And basically, people will at the same time taste what is tasted on stage. Otherwise, I don't want to give many details, the song is extraordinary, it lifts you up, it gives you the ground, it's not something easy, summer, it's deep and it has more uncomfortable parts… But that's the truth, it's not always comfortable. But I don't think anyone has done such a launch – theater, art, wine and music – and jazz and classical. There will also be a opening with valuable contemporary artists, who sell their own works, not bought from me, but directly from the artist… Basically, we open a cultural hub, one that invites to discovery – plastic artists, musicians and wines. So the people who will visit us will have something to tell.
Phoyo: Antonio Socea