These were my questions to the oenologist and co-owner of Vitis Metamorfosis, Fiorenzo Rista. Here is the summary of our online "isolation interview". Rista is one of the oenologists who actively participated in the Romanian Wine Revolution; in other words, he aligned Romanian winemaking to international standards. In the beginning, he started with only a one-year contract, but he never returned to Italy.
Upon arrival in Romania, Fiorenzo Rista found a country where most white wines were sweet or semi-sweet, and the reds were… let's say just difficult to drink. In 1998, he started working with Vinarte, a local company with an Italian among the shareholders. They wanted to produce premium wines at a time when the only other company focusing on quality was SERVE, a producer from the Dealu Mare region, founded by a Corsican investor whose family had a long history of winemaking.
"The work in the vineyard was not bad. Maybe old-fashioned, but fair, the grapes were good. But somehow, all the wine was lost in the cellar. Obsolete equipment and many other problems… I witnessed the change; I saw the newcomers building new, modern cellars. The older ones were updated to modern technology. You can see these changes in the glass. When I came here, white wines were yellow, with a golden hue; now they're reading fresh, with green accents. The cellars are so clean now, and they're open to tourists. The wines we made in the late '90's convinced winemakers from all over the world that Romania had a huge potential. So they came and started to work here. And people learned what they needed to do," says Fiorenzo Rista, sipping a 2019 Sauvignon Blanc, the first satisfying harvest since 2015, made for Vitis Metamorfosis, the company he manages now.
Coming from Italy, I was curious about two things: how winemaking there influenced his decisions in Romania, and what Italian region most resembled the vineyards he helped in Romania – mostly in the South.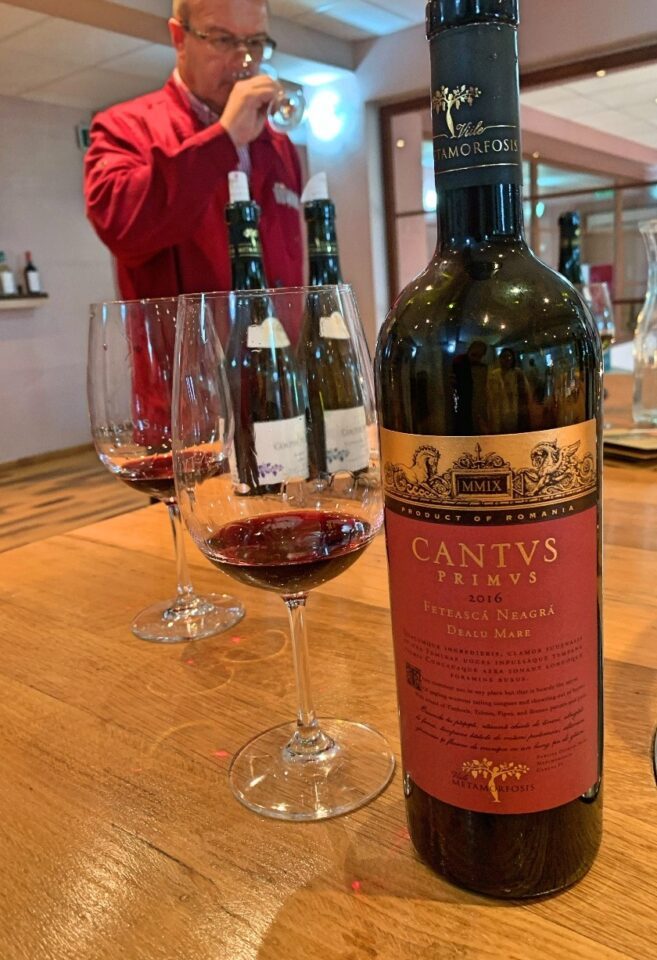 It seems that the Southern regions – Dealu Mare, Dragasani, Mehedinti – are similar to Tuscany. They have richer soil with a lot of clay, conferring significant structure to important red wines. For white wine lovers, Fiorenzo Rista says that Cotnari, a region north of Iasi (in Moldova), is an undiscovered treasure. As for winemaking techniques, he is happy with mixing small oak barrels (230 liters) and large oak vats (5.000-7.500 liters) for the wine maturation. "The Feteasca Neagra grapes, which are the most planted Romanian red grape variety, have smooth and sweet tannins, and aggressive oaking may cover the fruity notes of cherries, black cherries, and sour cherries. It is a beautiful, velvety wine, and large oak vats help preserve its character," says Fiorenzo.
The same technique was used for one of his first important wines, the Cantus Primus Cabernet Sauvignon made in 2007, launched as an experiment in 2009. The same wine from the 2009 harvest was the first real hit on the market. "We look for gentle, elegant wines, with more fruit, fewer woody notes, preserving the variety`s genuineness. We take the small barrique samples, the large vat samples, and then we decide the final blend", he explains. For the Cabernet, he uses two clones developed in Romania, in Dragasani, and in Iasi; so in a way, they may be called "local varieties" since they were selected and improved locally.
How do you predict the still unknown future of Romanian wine after the pandemic? What about the future of the international market? He believes that we are prepared for some time now for the world across the border. "You can compare Romanian wines with wines from Tuscany, Puglia or Bordeaux, and they'll hold up. Not saying they will come first, but they'll be among the best. The awards at international wine competitions prove it. But producers must act together. For example, we are currently discussing in Dealu Mare, about a collaborative action to set up the first DOCG in Romania, but also about working together in public relations actions for Romanian wine. Romania is a great place for wine, like Italy, you can plant grapes everywhere. There is a lot of potential, and there are plenty of grape varieties: for the whites, Feteasca alba, Feteasca regala, Sarba, Cramposie, Grasa de Cotnari, Tamaioasa Romaneasca; and for the reds Feteasca Neagra and Negru de Dragasani. And there are winemakers who really learned how to produce them – I'm thinking of Aurel Rotarescu from SERVE, Veronica Gheorghiu from Oprisor or Mihai Banita from Lacerta".
Along with the Feteasca Neagra made in the late '90s by SERVE, Fiorenzo's Swallowtail Feteasca Neagra was one of the wines that proved the power of this variety, which became Romania's flagship grape. Negru de Dragasani is a variety Fiorenzo saved from extinction while working with Vinarte, and although still not widely cultivated, he has proved its potential. It looks like all varieties that impress him turn into market success so… there is nothing left but to pray for as many winemakers like Mr. Rista as possible!