What are winery wines? What wines are kept in the wine cellar?
Burgundy's famous wine producer, Bouchard Père and Fils, auctioned out an auction held in Hong Kong, a collection of old wines, some dating from 1846 and 1865. [1] How can we know if those wines can still be drunk or are simply purchased for private collections, as trophies or testimonials of precious memories?
First of all, in the wine cellar are kept wines from years with special harvests; anniversary wines for the community or the producer concerned; wines which will constitute the reserve; wines for experiences and experiments; or simply to have a certain number of specimens from each year of harvest. What distinguishes them from the wines to be marketed is the way in which they are bottled, cared for for a long time and kept.
Each wine cellar can make up its own wine cellar from which it will later draw wines for comparative tastings, verticalor occasioned by certain events.
The Minis Wine Research and Development Resort, in Arad County, keeps in the wine cellar, starting with 1926, wines that it sells especially to connoisseurs, who buy them most frequently to give them gifts at anniversaries. Preparing them for delivery is a real ritual, and the packaging and certification of the product is an original one, specific to each winery.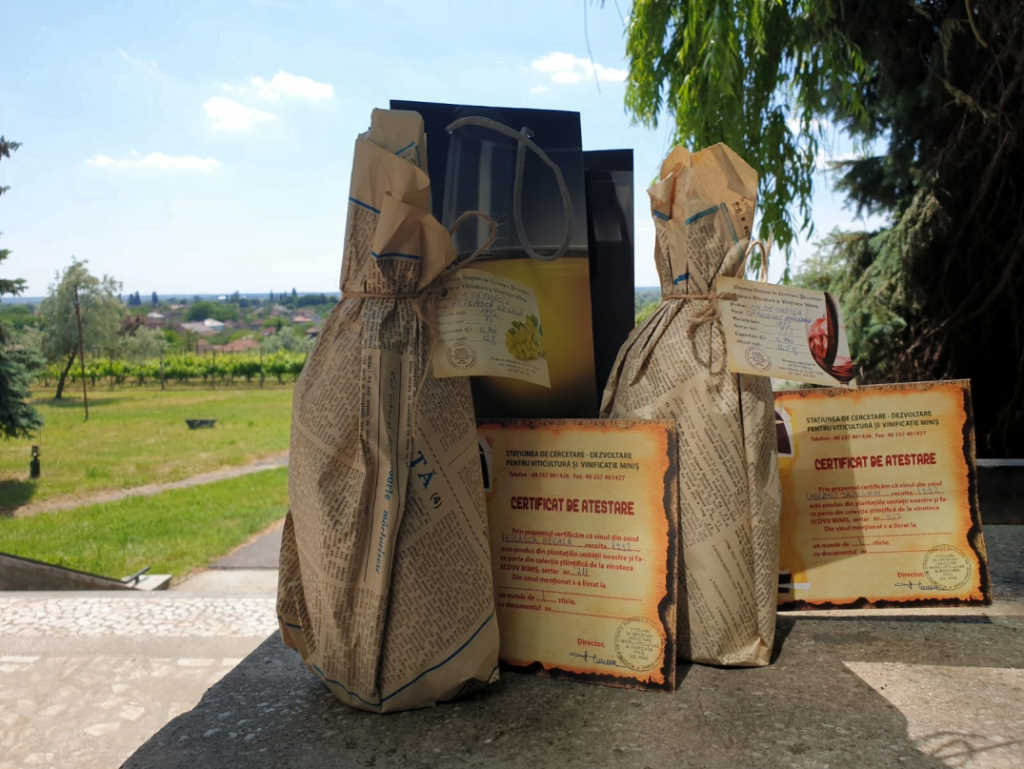 The main threats to the preservation of a wine arethe oxidationand the effect of ultraviolet rays from daylight. Red wines are easier to keep, due to their content in anthocasians and tannins. The alcohol and sugar content, the low volatile acidity and the dry extract also play an important role in preserving the wine. We will also be able to keep a white, sweetfull-bodied wine, which can even aspire to medals in international competitions, such as Liliac Nectar of Transylvania (Muscat Ottonel),non-vintage, AMB Wine Company / LILIAC WINE CELLAR, which won the Grand Gold Medal at Vinarium 2022 or Grasa de Cotnari, 1985COTNARI SA, which won the Gold Medal at the same competition.
Where the wine wines are kept
The cellar is ideal for storing wine cellar, in bottles (collection) or in oak barrels or amphorae (maturation and aging). A wine cellar cannot be based on plastic bottles and demijohns, wherever they come from. That is a cellar with wines and can accommodate canned food and pickles next to it. In the wine cellar is kept exclusively wines, and the right microclimate (temperature, humidity and light incidence) is especially important. An above-ground wine cellar is often called a wine room, while a small wine cellar (less than 500 bottles) is sometimes called a wine cabinet. There are cellars dating back over 3700 years. [2]
In Arad County there is still the Rakoczy Cellar, from Mocrea, dating from 1636, being built at the order of Prince Rakoczy. The construction in the form of a cross was dug, using explosives with gunpowder, in the granite rock under the hill from Mocrea. This cellar has a depth of 60 meters under the hill and could store 7000-9000 hectoliters of wine, but it was never used as a wine cellar. [3]
Wines stored for old ageing or keeping in professional collections must be kept away from natural light. That's why cellars or cellars dug in the ground are chosen for keeping as ideal. The natural temperature in the wine cellar can be between 8 and 15 degrees Celsius, without fluctuations, but the ideal range would be 10 – 13 degrees Celsius, and the humidity level should be between 50 – 75 percent, to prevent the drying of the unceremonious plugs. The drying of the stoppers allows the oxygen to enter the bottles, in a larger quantity than the one provided by the bottler, when he chose the stopper and the shelf life of the bottles and thus irreversible oxidation. Modern systems of specialized refrigerators, super-digitized, can keep wine wines in the conditions of today's homes, but with exorbitant costs both for the purchase of equipment and for their maintenance.
Closing the bottles that will be the object of the wine collection
The bottles will be obligatorily closed with cork stopper or, more recently and modernly, with cork stopper and activated charcoal – corkcoal. For white wines, a special wax is used with which the stopper is sealed and about 5 cm of the glass neck on the outside, like a hood, the technological phase called waxing..
The bottles are kept in cassettes made of brick, on shelves made of hardwood or in large metal cubic baskets, in a lying position, so that the wine is permanently in contact with the stopper, which it will keep moist, making it difficult to penetrate oxygen more than for microoxygenation..
How to care for wine wines
Over time, a layer of powder, a unique powder, a characteristic patina of authenticity of the wine wines will be deposited on the bottles. This layer of dust should not be removed in any way. Bottle handling is done with surgical gloves, with special care. Once every 25 to 30 years, the bottles are checked opened and tasted, completed where appropriate and re-painted.. This operation of great finesse and responsibility is done by specialists and aims to monitor the quality of the wines in the winery, their re-evaluation and the extension of the storage period in conditions of baubility.. As with any artifact, it is envisaged to keep the original label intact, if it has been put. De regula, vinurile de vinoteca nu sunt etichetate, pentru ca deteriorarea etichetei este inevitabila, in timp. Ele poarta placute metalice cu numere, astfel cum sunt inscrise in catalogul colectiei, iar aceste placute sunt legate cu materiale rezistente, de gatul sticlelor.
Are the wines from the winery still good to drink?
Hard to answer, but if we take into account the storage conditions, to remove from the wine cellar a bottle of wine kept there over 20 years and preparing it for tasting is an event. Less handling, in no case will it be shipped through the courier companies and if it has been subjected to such a "treatment", it must be allowed to rest at least a few days, after receipt, before being unwrapped. Then, we need to know exactly what to expect: we will not meet with a white wine full of freshness, nor with a dark red wine. Most likely already in the wine were installed maderization and its color has undergone changes, the white wine has darkened, and the red wine has opened. The wine will necessarily have to be transferred to a decanter.. Brought to the optimum serving temperature, there are all the chances that we can enjoy a unique experience like that bottle and its history.
Sources:
Wilford, J. N. –

"Wine Cellar, Well Aged, Is Revealed in Israel"

, The New York Times, 2013.

Sursa foto: Bouchard Père & Fils

Sursa foto: SCDVV Minis, Arad