Since Brexit, labor supply to British vineyards has fallen to less than a third of the required levels. The end of freedom of movement of EU citizens has been the focus of the industry even before Brexit.
Romanians are favorite for working in viticulture
"The demands for vineyard workers grow and, in spite of this, we continue to engage Romanian workers who either have settled status or seasonal visas" declared Virgil Moise, CEO Vitis Care UK Limited in the last number issued by Vineyard Magazine UK, September 2022.
At Vine-Works, a family approach is in place and there are employees with over 10 years of experience in UK viticulture working for them. A staff member recently declared: "At Vine-Works we see 90% of our skilled workers returning year on year and do not see these workers as transient or seasonal workers, but permanent members of staff (we try to allocate the same teams to customers where possible)."
There are still many other challenges ahead for the English wine industry. But challenges are also rewarded with many opportunities.
English rigor qualification for Romanian winegrowers
Plumpton College (validated by Royal Agricultural University) in East Sussex, UK's center of excellence education, training, and research in Wine (which delivers the only undergraduate degree in wine production taught in English!) has a new programme at Level 3 (equivalent to A levels) in viticulture. This one-year full-time programme is designed for those who want to gain the practical skills and knowledge to enter the industry at the vineyard operative level. (Wine GB wants and is involved in helping more colleges around the UK to offer this type of course).
The programme would be ideal for many Romanian skilled workers to help them reach higher results and responsibilities in the industry.
But most Romanians working in Viticulture in the UK are seasonal workers, having families to provide for back at home. And vineyard work is a challenging and physically demanding work as previously stated. Shifting demanding outdoor work with attending classes in a second language can be simply too much.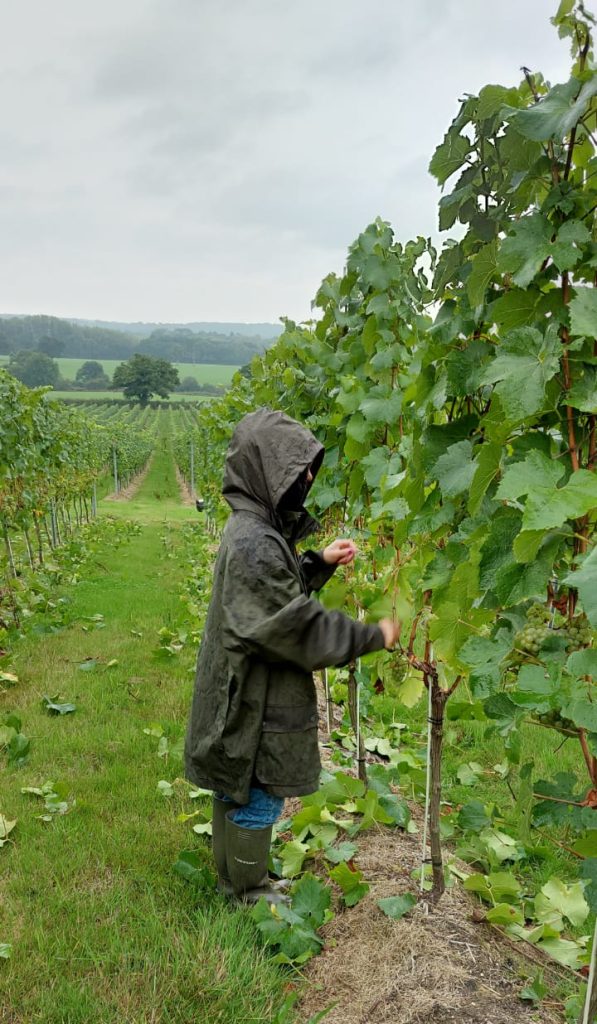 What can be done in Romania to honor the hard work of Romanians workers in UK's viticulture?
For a start, just a salute to their skills and contribution to UK viticulture and to the positive change in Britain's opinion about Romanians culture for work.
Free English lessons available when they return in Romania for their seasonal holidays
Gradual Implementation of agricultural measures and policies, so that they can return to work in Romania to put to great use their skills gained in Britain's vineyards for good money and to be close to their families.
Beyond the story, there is recognition for the Romanians skill
Because there are many very interesting stories out there, spoken and heard between the grapevines or just whispered to themselves to help them finish one more season…
Good harvest to everyone! And "Noroc si sanatate!" to our hardworking, skilled, experienced, full-hardy Romanians workers and viticulturists in the UK!
"For the wine drinker, the diversity of smaller independent vineyards and wineries brings only good news, but these smaller operators would also be the most vulnerable if there were increases in production costs if the labor shortage were to get significantly worse.
The migrant workers will have played the biggest part in the thousands of tonnes which will be harvested this year. So next time you have a glass of English sparkling wine make a toast to them and say 'Noroc' to all their hard work!" – Vineyard Magazine (24 May 2018)