Almost a million Romanians are celebrating their name day today (and many also have their birthdays during this period!), a lot more than the number of bottles of Cuvee Andrei produced by Avincis, in the historical vineyards of the Dragasani region. But, if we cut from the total amount the kids and those who have not yet discovered the wine world, it is possible that at least some of the celebrated will enjoy a bottle that bears their name – and yes, Andrei is, as expected, the first grandson of the Stoica family, Avincis owners. We hope he is also the one who will carry on the tradition of exceptional wine from Dragasani,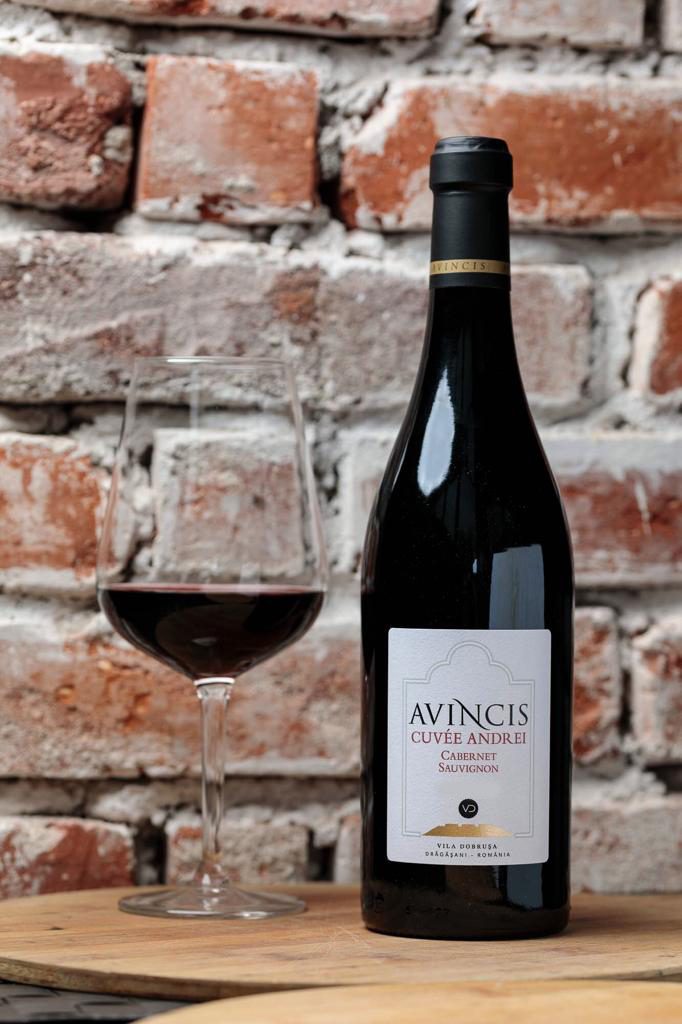 The Olt Valley, at its Southern side, after leaving the Carpathian mountains, is already well known for its local varieties – Negru de Dragasani, Cramposie or Novac – but its notoriety is due, historically speaking, to the fact that some international varieties have excellently adapted to the climate and soil here. Of these, Cabernet Sauvignon has written and rewritten many pages of stories, with exceptional wines born on both banks of the river
At Avincis, beyond the special care invested in growing the grapes, picking and fermentation, the focus is also on preserving with maximum accuracy the flavours of the grapes, which is why less than half (40%) of the wine is aged in oak barrels (90% new), while the rest of the wine patiently waits in stainless steel tanks. The barrel-aged wine contributes to the complex aromas of spices, wood or vanilla "borrowed" from the oak wood, while the wine stored in stainless steel preserves its freshness and the black forest fruits notes (blackberries, blueberries, currants).
Given that the passion for gastronomy has spread "like wildfire" through the kitchens of Romanians, we suggest three recipes, depending on how much time you want to spend cooking, but also looking for ingredients.
1. Bear steak in blackberry jelly
The piece of bear's round or brisket is marinated for 24-72 hours (in wine, vinegar, carrots, chopped onion, peppercorns and, possibly, a splash of brandy), then drained and thrown into the slow cooker or oven, on low heat, for 5-6 hours, along with vegetables, olives, mushrooms. When it's ready, cool it, cut it into slices or cubes and cover in blackberry jelly – preferably made with food gelatin, to prevent oxidation. For the jelly, add one kilogram of sugar to each kilogram of fruit, to which 3 grams of gelatin are added – you must adapt the amounts to how much meat you cook – 100 grams of jelly per 1 kg of meat should be more than enough.
There's really no philosophy here, except that it's a sin for the beef to be well done. A serious steak, 3-4 centimeters thick, only takes 2-3 minutes on each side, on a well-heated grill. Then, drop of butter on top, a sprinkle of salt and pepper and that's it! For the side dish, given the forest aroma of the Cabernet, we suggest baked or grilled mushrooms, but, in fact, only your taste buds and imagination matter here.
3. Lamb chops with mint sauce
Ripe Cabernets often have dicreet notes of eucalyptus or mint so, to add complexity, oven-roasted lamb or mutton chops, lightly brushed with a thin layer of honey with crushed walnuts, mint leaves and a dash of garlic or rosemary, also fit fine…
Happy birthday and bon appetit, to all those named Andrei and Andreea!