The Sarba grapevine variety is grown exclusively in Romania, on an area of 319.65 ha [ONVPV, 2022], compared to 284 ha in 2010 (VIVC), which means that Romanian winegrowers have also turned to local varieties through reconversion programmes.
The origin of the Sarba under the scrutiny of the curious
The largest area is in Vrancea (268.40 ha) and the smallest officially registered area (0.01 ha), probably to some Romanian variety enthusiast, in Mures county!
Distribution of Sarba in Romania (data source: ONVPV, 2022)
From Sarba can be obtained wines with controlled designation of origin in 5 of the 34 currently protected designations: PDO Cotesti, PDO Husi, PDO Iasi, PDO Odobesti and PDO Panciu.
Sarba, with number 10738 in VIVC, is a Romanian semi-aromatic white wine grape variety, obtained fromRiesling italianseeds, freely pollinated in a plantation at the Odobesti Wine Research Station. In 1956 it received its original name as Riesling aromat 12/18. It was homologated in 1972 by the Odobesti Wine Research and Development Station (ROM 050), which is also the grapevine variety's maintainer, and was then named after the Sarba Hill, nearby Odobesti. [1]
Sarba is known as such in all countries where it is maintained as a pure variety: Bulgaria, Czech Republic, France, Hungary and of course Romania.
In the 1990s Sarba was making thin wine, sold in bulk and lost among the white wines without many expectations. The Girboiu winery in Vrancea (the wine-growing region of the Moldavian Hills) believed strongly in Sarba from the very first moment and has been experimenting for over 15 years with different modern vinification methods with this wine grape variety, from the first dry wine to the first wine sur lie/on lees (matured on fine yeasts in French barrels).
The experimental wines resulting from Sarba wine grapes were analyzed by Romanian researchers with a double column gas chromatograph apparatus that works as an "electronic nose" and provided fingerprints of the volatile substances profile for each sample. [1]
Statistical analysis of the volatile profiles confirmed that Sarba is likely to have a parent-parent relationship with both Riesling italian and Tamaioasa romaneasca (or other muscat-flavored variety). [1]
According to VIVC, Sarba is descended from the paternal line Muscat de Alexandria and above, the Muscat a petit grains blancs variety.[2] In the OIV list – 2013, the catalog number for Sarba is 3164.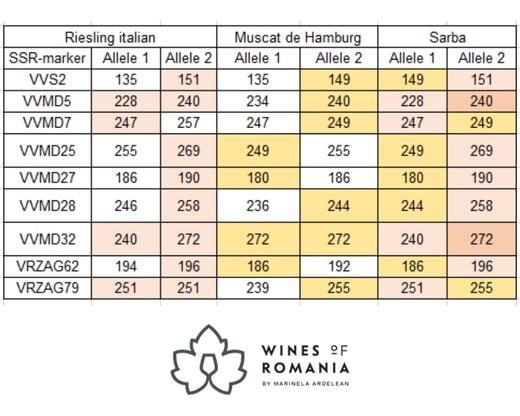 Genetic comparison between Riesling italian – mother and Muscat de Hamburg – father and Sarba, according to VIVC
Molecular analysis using markers showed unequivocal descent of the Sarba variety from Riesling italian and Muscat de Hamburg.. Thus, the mystery of the muscat aroma of this grape was solved.
The Golia grapevine variety (VIVC number 23549), which has one parent Sarba , is cultivated on 0,09 ha, in Iasi county (according to ONVPV, 2022), is included in PDO Iasi and can produce up to 14,000 kg/ha.
The delicately flavored Sarba in Romania
White wine, subtly flavored Sarba is the right companion for light meals, pasta or fish, entrees based on fresh cheeses, along with salty pastries. Variants that still have fine yeasts in suspension can carry off a portion of polenta with scramble made with freshly laid eggs taken from the nest, mixed with onion, dill or basil, the latter paradoxically accentuating its flavors.
In 1983, comparative research was carried out on semi-aromatic wines: Sarba, Feteasca regala and Muscat Ottonel. Sarba showed technological and sensory traits closer to Muscat Ottonel, confirming right from the beginning a descent from a terpenic (aromatic) variety. [1]
The researchers' observations are confirmed by the practical work of those who grow this grapevine variety. There are two different clones: one that produces strongly aromatic grapes, with a hint of sweet rose and another, more productive, with a more subdued aroma.
These differences are absolutely normal in the case of obtaining a variety by open pollination (O.P.). Subsequent vegetative propagation retains the same qualities as the marked individuals from which the scion cordons were taken.
So far 17 clones are approved, elite material, held by Romanian research stations in ampelographic collections: Sarba 13/17; Sarba 19/32; Sarba 24/45; Sarba 2-96; Sarba 3 Odobesti; Sarba 3-106; Sarba 3-126; Sarba 3-149; Sarba 3-152; Sarba 6-11; Sarba 6-84; Sarba 6-87; Sarba – OP 4-23; Sarba – OP 4-29; Sarba – OP 4-33; Sarba 2 Stefanesti.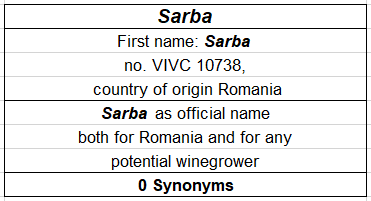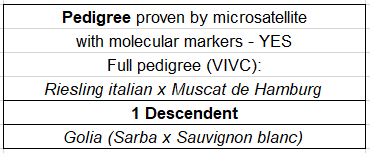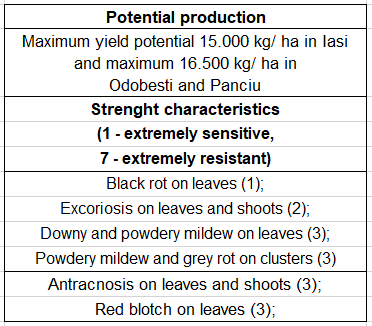 Sarba wines recommended by Wines of Romania
Livia Sarba – Gold at Mundus Vini 2014 – Crama Girboiu;

Livia Sarba – Gold at Berliner Wein Trophy 2019 – Crama Girboiu;

Bacanta Sarba Barrique – Gold at IWCB VINARIUM 2020 – Crama Girboiu

Petite Helena – Gold at Berliner Wein Trophy 2020 – Crama Girboiu

Bacanta Sarba Special Edition – Gold at Mundus Vini 2021 – Crama Girboiu
Epicentrum Sarba & Plavaie 2017; Gold at Mundus Vini 2021; Gold at IWCB 2019 – Crama Girboiu
Tectonic Sarba 2017 – Crama Girboiu;
Panciu Riserva Sarba 2019 – Domeniile Panciu
Glia Sarba 2013 Senator Wine;
Sources:
ANTOCE, Arina Oana; STROE, Marinela Vicuta; COJOCARU, G. A. –

Tentative application of an electronic nose to the study of the parentage of Romanian grape varieties Sarba and Alb Aromat

"ST26733", International Conference "Agriculture for Life, Life for Agriculture", Agriculture and Agricultural Science Procedia 6 ( 2015 ), pg. 110 – 117, 2015

LACOMBE, T.; BOURSIQUOT, J.M.; LAUCOU, V.; DI VECCHI STARAS, M.; PERROS, J.P.; THIS, P. –

Large-scale parentage analysis in an extended set of grapevine cultivars

(

Vitis vinifera

L.) Theoretical Applied Genetics 126 (2) 401-414, 2013
Photo Source: 📸 Crama Girboiu