Stelutza from Gramofon Wines
In March, we organized the first national viticulture competition in Romania, hosted by the Pietroasele Research Station. Considering that it was the first edition, the number of participants exceeded expectations and the enthusiasm, openness and emotions of the participants motivates us to already prepare for the next year's edition, which will take place in the same vineyard, during the same period.
Through this contest, we aim to support the Romanian wine industry and raise awareness about those without whom the quality of Romanian wines would not be the same. For us, the organizers, they are all winners and the prizes are collected by the consumers of Romanian wines who enjoy a constant increase in the quality of Romanian wines.
In the following period, we shall introduce some of the competitors to you, in a random order
Stelutza, as the winegrower from Gramofon Wine is fondly called, was one of the top specialists who entered the "Best Winegrower" contest, organized by Wines of Romania. Although he missed the podium "by a whisker", coming in fourth, he has no regrets, apart from the alarmingly small number of young people who intend to pursue a career in viticulture, in particular, or in agriculture, in general.
M.A. Why did you participate in the contest?
S.T. To represent the company I work for, but also to show that I love to work in the vineyard. To let others see what it means to work, because today there are fewer and fewer people willing to work and learn. But I can't say that I came to win, I came because it's important to participate.
M.A. SDo you know that you won the fourth place, very close to the third place?
S.T. I didn't even think that I would get there, in fourth place.
M.A. Where did you learn to prune?
S.T. In the vineyard. I'm not kidding, I learned everything directly in the vineyard, I was born with scissors in my hand, I was born in the vineyard. And I like to work in the vineyards, because otherwise I wouldn't come there…
M.A. But from whom did you learn the most trade?
S.T. From our former engineer, Mr. Dima, at farm number 9 Urlati, in Mocesti. He was the best engineer in our area.
M.A. Work is the basis, but you also need theory. And with you it was clear that you know what to do.
S.T. Yes, but you should know that I also had some more defective plants, and there I realized that I was wrong, I didn't really have anything left to do, there was nothing more for me to do there.
M.A. If you were to start over, what would you do differently, apart from these plants?
S.T. Well, I would make the cordon as ordered, because I did it as I knew, because depending on the age of the vine you can leave two or four shoots, for old vines you leave them with a longer head, where you have a greater distance between the plants there is another thing as well, that the hubs must be at 80, let's say 85 centimeters. As I said, I don't have a lot of school, but I have a lot of practice. What I would clearly change would be some of the cuts.
M.A. What would you say to your colleagues from other wineries? That they came from many areas of the country…
S.T. Let him continue to do his job, but do it with love, not out of obligation. When you do something because you have to, it doesn't turn out good, they have to like it. To continue working, to come to the competition, not to win, but to learn. And to work, because that's how things are solved in life. With work. In agriculture, especially, only with work. And you don't necessarily need a prize at the competition, the important thing is that you participate and move forward.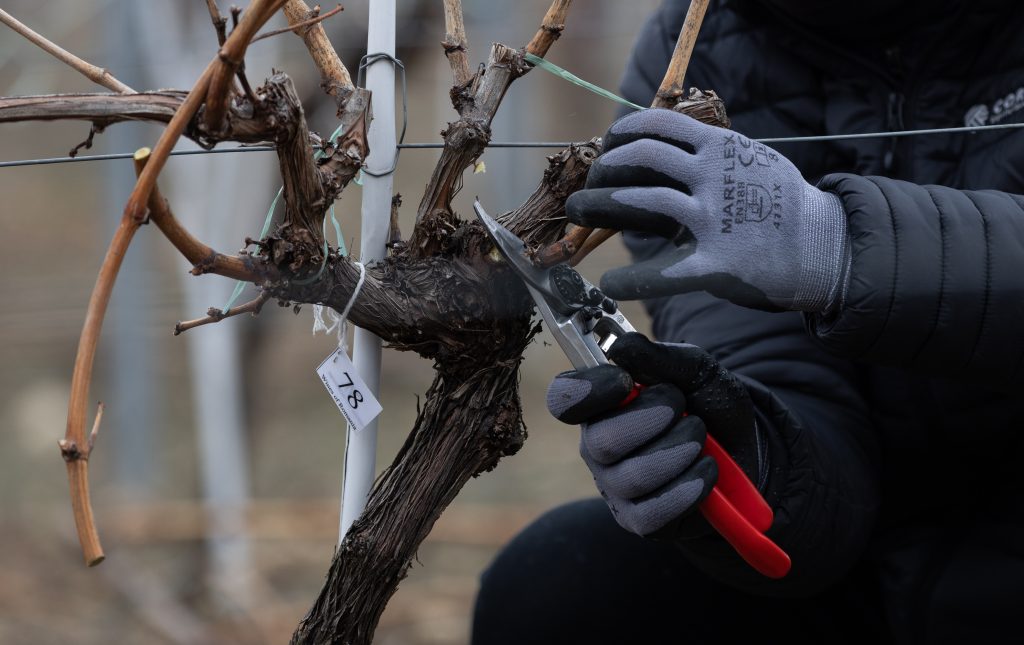 M.A. How do you see Romanian wine? Is it appreciated, does it have the necessary quality?
S.T. Depends from winery to winery, each according to how they make their own wines. My opinion is that it is the best wine. Well, we are not comparing ourselves to the Italians or the French, who are way ahead of us, but I like Romanian wine. In my opinion, it is good, especially in our area, in Dealu Mare, of course. It is a well-known and sought-after area, with a lot of quality wine.
M.A. Are you still learning about your job today or are you teaching others?
S.T. Well, I don't really have anything left to learn, but I like to teach others. And not to get paid, I like to help, to teach someone, to know, to carry on, to keep the job… But with today's youth, things are difficult, they learn a bit of theory, do even less practice.. There are not many people who want to work in the vineyard.
M.A. What should we do differently next year, according to you?
S.T. Do the contest for youth. Let there be no more farm managers, older people, just one or two, to show the young people how to do it and that's it, let the rest be youth, because they are needed and they must be encouraged to work and learn.
We need as many people as possible like Stelutza, but also winery owners who encourage and support their collaborators. After the contest, Stelutza was praised on the winery's social media channels and received a cash prize as an incentive for participating in the contest.