My first contact with Syrah wine was in 2014, at the well-known 'club of unauthorized wine tasters' in Arad, with a 2005 Penfolds Magill Estate Shiraz. It was told to me that after tasting this wine, I will only drink imperfect Shiraz! Which was valid for less than a year. In 2015, at a wine festival, just in the historic Maramures, I was 'stoned' by a 'peak' Syrah from Dealu Mare!
According to VIVC:
Syrah

is registered with the number 11748 and is a variety native to France.

It has 98 synonyms, of which the best known is

SHIRAZ

There are varieties

Syrah grosse, Syrah petit, Syrah forchue

There are 45 institutions that own this grapevine variety in ampelographic collections/ germplasm sources (gene banks)

The variety has a full pedigree and comes from parents proven by molecular analysis:

Mondeuse blanche

(alb) x

Dureza

(negru)

He has many descendants, including:

Syrah self-fertilized 1992

(

Syrah x Syrah

),

Carina

(

Syrah x Sultanina

),

Rubin

(

Nebbiolo x Syrah

)

It is cultivated on more than 10 ha in 19 countries of the world. The graph shows the share in the countries that had more than 5000 ha with this wine grape variety (in 2009)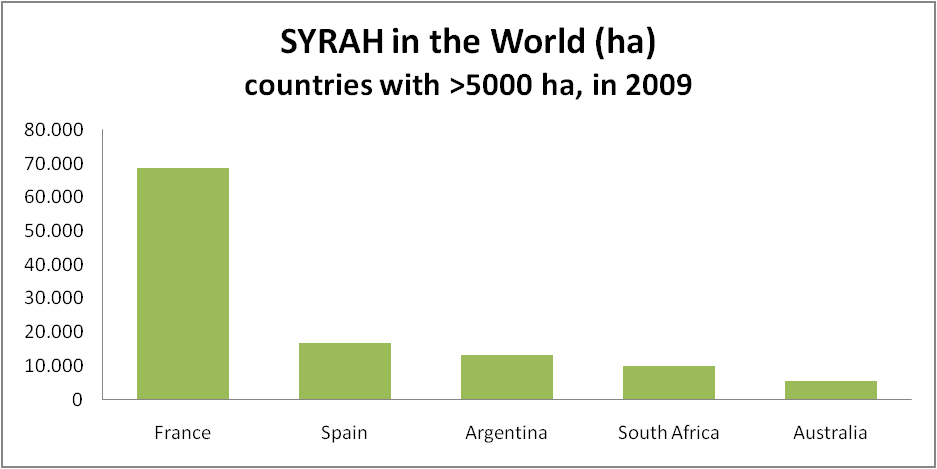 In

France

, the classic cultivation area of this grapevine variety is in the North of the Rhône, on the terraces where mechanization does not work and the vineyards are still worked by hand. [3]
Cote Rotie and Hermitage are the most famous appellations that consecrated the wines of the Syrah variety. With many vineyards cultivated on flat land, Crozes-Hermitage is the appellation that produces wines that are less complex, but also more affordable.
In the South of the Rhône, where the star is Grenache, by adding Syrah to some blends, together with Mourvedre and Cinsault, memorable wines are constantly produced.
It is the grapevine variety that brought

Australia

to the attention of wine lovers. It is grown on its own roots (not grafted) in almost all wine-growing regions on the continent and has its feast day, celebrated on July 23
It is part of the famous blend, colloquially called, GSM, which does not represent a telephone's aerial, but the initials of the component varieties: Grenache + Syrah + Mourvedre.
Another blend where the varieties potentiate each other is Syrah + Cabernet Sauvignon, which combines the opulence of the first with the herbaceous austerity of the second. [2]
In

Spain

it is cultivated (in 2018) at 19,371 ha. In 1990, only 4 ha were officially registered. Nowadays, it occupies about 1.8% of the wine-growing area of the country. The largest area is in the Castilla-la-Mancha wine area (64% of the total).
It is highly sensitive to gray rot, chlorosis, mites and drought, but the woody material that falls during the dormancy cutting propels it into the area of some of the most environmentally friendly crops, because pellets for heating can be made from this wood, which means a great power of recycling, in this world with trends towards sustainable economy and ecology. It is one of the grapevine varieties that can be grown successfully in the soil carbon sequestration program, called "4 per 1000".
An interesting combination can be Tempranillo + Syrah, resulting in a wine with a great aging capacity, due to the mutual potentiation based on the acidity of both varieties. Garnacha + Syrah can also be an option, where not only the acidity supports each other, but also the spicy aromas bring extra security for a long maturation.[2]
By the ONVPV:
In Romania,

Syrah

is cultivated in 18 counties, but we have chosen for exemplification only the first eight of those with more than 20 ha.

In 2021, an area of 638.41 ha will be cultivated with

Syrah

in Romania, according to ONVPV

Of the 34 PDOs existing in Romania,

Syrah

is allowed in 21 for wines with a protected designation of origin, with maximum productions from 70 to 215 q. In Dealu Mare, a maximum of 140 q/ha can be produced

PDOs where

Syrah

is found

: Adamclisi, Aiud, Banat, Banu Maracine, Cotesti, Crisana, Dealu Mare, Dragasani, Husi, Insuratei, Jidvei, Mehedinti, Minis, Murfatlar, Odobesti, Oltina, Recas, Samburesti, Sebes-Apold, Segarcea and Tarnave

In Romania, only the synonyms

Syrah

,

Shiraz

,

Petit Syrah

,

are allowed on the label, according to the OIV 2013 list (number 3425)
Syrah or Shiraz, however we call it, has a distinct identity
In her work from 1996, Jancis Robinson said that "Syrah belongs to the winegrower, while Cabernet Sauvignon belongs to the oenologist". [1] She referred to the fact that the "king of wines", Cabernet Sauvignon must be picked as late as possible, left to ripen well, in order to complete its character, and oenologists can express their talent by "playing" with winemaking techniques.

Syrah a variety that extracts everything possible from the soil, correlates its physiology with the potential of the microclimate and can give very high yields compared to Cabernet Sauvignon. That's why the rationing of the production, the defoliation, the time of harvesting, all of which are the responsibility of the winegrower, can show his mastery in the final Syrah.
Syrah wines are intense red, with a bluish hue when they are young, generously colored, with high alcoholic strength and remarkable full body, with high acidity, vigorous and rich in tannins. They are wines with complex aromas, between floral and fruity, with hints of violets and black currants, with accents of leather, tobacco and licorice, which lend themselves to light oak barrel contact, which can give them a slightly smoky tinge. [2]
In the wines produced in moderate climate areas, we can find dark chocolate aromas, herbal notes, smoked meat or black pepper. In the hot climate areas, aromas of liquorice appear in the wine, and through aging, notes of earth, wet leaves, and leather are revealed. In areas with a cold climate, the variety does not reach full maturity. [3]
But the climatic evolution of the last 15 years leads to lower and lower latitudes, the possibility of cultivating this grapevine variety, and the success can be felt in the taste of wines from Northern Romania, in areas once dedicated to white wines.
In recent years, more and more oenologists are experimenting, in Romanian wineries, with Syrah wine without oak wood contact, enabling it to reveal all its extractive potential, fruitiness and minerality, expressing more and more faithfully the terroir- where the wine grapes are grown.
Syrah is one of the wine grape varieties that greatly appreciates mycorrhiza (the symbiosis of microscopic fungi in the soil with the roots of the vine) and becomes all the more complex the older the plantation is. That is why, only nowadays the wines from the plantations established in Romania 10-12 years ago, with this variety, are starting to show their potential as wines that can pass the test of time through aging
References
[1] Robinson, Jancis – Wine Grapes, 1996
[2] Variedades de vid en España, 2-a edicion, Edicion special, "Curso Internacional de Ampelografia, OIV and IMIDRA 2021", Grupo Editorial Agricola Espanola SA, 2019
[3] Wines and Spirits – Looking behind the label, produced and published by Wine &Spirits Education and Trust, 2014, pg.40