The price difference between the first and last place in the Top 10 is about 2.055 million dollars
When they get bored, British researchers, and not just them, discover all sorts of things, which are more or less surprising, even if, apparently, without practical applications. Let's not be surprised, therefore, that between 1986 and 1989, a joint project put into practice between Moet & Chandon and Heineken used a camera connected to the computer to record how many bubbles are released in a bottle of champagne. The researchers' conclusion: 250 million bubbles.
But a certain engineer Bill Lembeck were not happy with this result, so he made his own measurement. He estimated the volume of an average champagne bubble at 69 millionth of a milliliter. Its conclusion: a 750 ml bottle of champagne contains 49 million bubbles.
As the results differ radically, the fact is that in the case of champagne, the researches and controversies regarding the results could last indefinitely. That's why, in this case, we chose a topic that circulates more easily verifiable figures – we're not going to sit now to count 250 million bubbles, just to see if the researchers are right! – , namely a top of the most expensive champagnes, made up by the publication Finances Online, in 2022. Finances Online, in 2022.
10th place: Champagnes recovered from wrecks sunk decades ago – with an average price of $14,181.81 per bottle.
About the champagnes recovered from a wreck in the Baltic Sea you could read in a previous article, so the average price of the champagnes that are in the tenth place in this top should not surprise you – at least from the perspective of historical association and absolute rarity.
9th place: Louis Roederer, Crystal Brut 1990 Millennium Aunt Cuvee , with a price of $18,800 per bottle.
Crystal Brut 1990 Millennium Cuvee Auntilem is the equivalent of six liters or eight normal bottles. Not only the quantity of champagne influences the price, but also its rarity: only 2,000 similar bottles are produced annually.
8th place: Krug 1928, priced at $21,200 per bottle.
A great summer in 1928 and, consequently, an ideal harvest situation at the end of September made this champagne an exceptional one. The historical conditions – the context of the Second World War – and the chance made these champagnes to be kept in the cellars of Krug for several decades. The rumor that it was King George VI's favorite champagne also helped with marketing.
7th place: Veuve Clicquot 1841, priced at $34,000 per bottle.
Part of the transport recovered from the wreck of the Baltic Sea mentioned in the article about the recovery of wines from the bottom of the seas and oceans, a bottle of Veuve Clicquot reached this price at the Acker Merrall & Condit auction.
6th place: Dom Perignon 1959 – 42,350 dollars per bottle.
In 1971, iran's shah ordered several bottles of Dom Pérignon Rosé to be unburied in Persepolis, at the lavish festivities marking the 2500th anniversary of the founding of the Persian Empire by Cyrus the Great.
37 years later, two of those Dom Perignon Rose Vintage 1959 bottles arrived at an auction organized by Acker Merrall & Condit. They were awarded for $84,700 in New York.
306 bottles of Vintage Rose 1959 were produced. Moreover, none of them have been officially sold.
5th place: Juglar Cuvee 1820 – 43,500 dollars per bottle.
The Juglar House ceased to exist in the 1840s, but this bottle of champagne has stood the test not only of time, but also of history, being also recovered from a wreck.
4th place: 1996 Dom Perignon Rose Gold, with $49,000 on a six-liter bottle.
Only 35 bottles containing this champagne were put up for sale. Of course, the price has more to do with gold-plated glass, than with the six liters of precious liquid.
3rd place: Armand de Brignac 2011, 15 liter bottle – 90,000 dollars per bottle.
Jay Z, the owner of this brand, tried to combine rap music with a champagne whose unofficial name is Ace of Spades.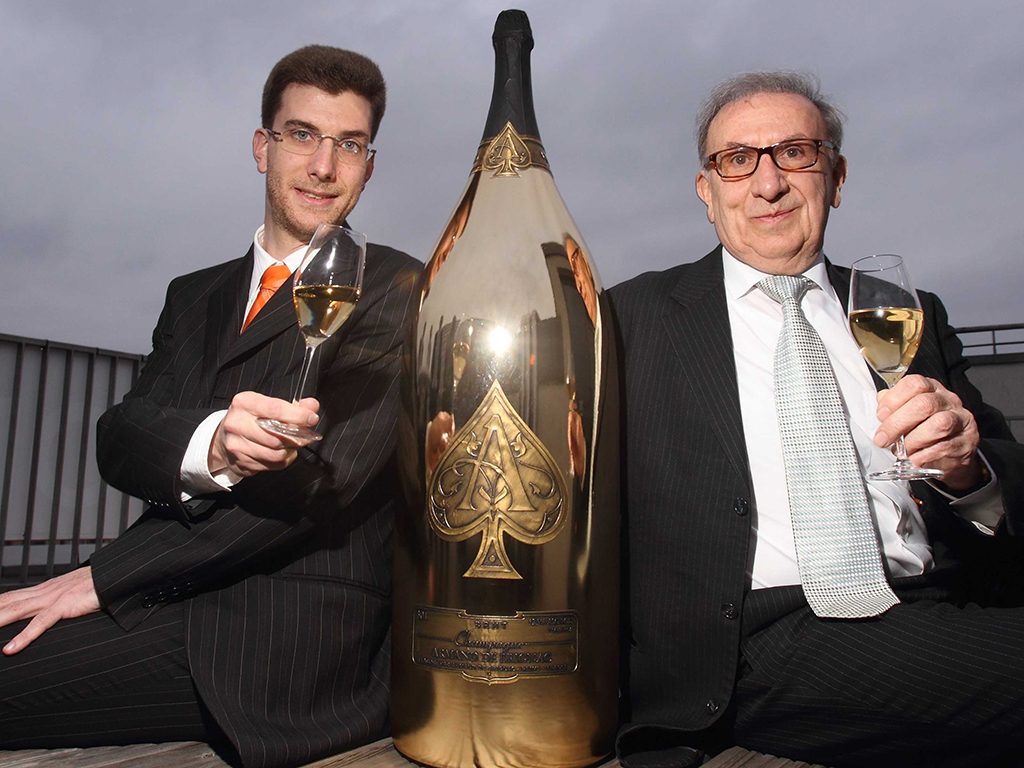 2nd place: Armand de Brignac Rose 2013, with $ 275,000 for the 30-liter bottle.
Jay Z increased the dose, increasing the size of the bottle to an almost obscene level, equivalent to 40 bottles of standard size.
1st place: Taste of Diamonds 2013, with 2.07 million dollars per bottle.
The luxury champagne brand – Goût de Diamants announced in 2013 its entry on the champagne market, launching its most expensive champagne, created by the acclaimed luxury designer Alexander Amosu.
Inside this bottle of champagne is a mixture of Grand Cru Chardonnay, Pinot Noir and Pinot Meunier. And for this champagne, the price has more to do with glass than with the champagne itself.
Taste of Diamonds' Superman signature logo is handmade, made of 18-carat solid gold, and in its center stands a single white 19-carat diamond, which replaces the Swarovski crystal usually mounted on a standard glass.
It should be noted that the normal-sized version of this bottle, without the precious ornaments, costs only $ 211.