I've written 10 wines to give as gifts for the holidays, but I couldn't stop at just that number, because I'm a classic example of a woman who changes her mind 1000 times with a shopping list in her hand. So, being 2022, I ended up with 22 wines!
How do I choose wines for gifts?
My friends usually call me exactly when they are in the wine shop, in front of the wine shelf, with the question: "what wine to buy, as a gift for some friends who are returning to the country or are not Romanian I would like them to remember that they received the wine from me, from Romania?"
What to answer, as usually, such phone calls come when I am with food on the stove, or when I am washing some glasses and my hands are full of washing-up liquid. At the end of the line, you can't see that the man is waiting in front of the shelf and I have to answer!
"Choose a wine from a Romanian winery!" This is the first answer that comes to mind in such a situation. If I'm not that caught off guard: "Choose a Romanian variety, go for rose, as it pleases everyone and is very versatile, it can accompany any type of food, from salty to sweet". If he/ she hasn't interrupted me from an overly complex activity, I sit down and ask helpful questions.
The caller is not interested in the fact that tastes in wine are questionable. He wouldn't be satisfied with an answer such as: what I like, your guests may not like. He knows that, in the case of such a dilemma, he can "call a friend" and then, whatever the outcome, be reassured that he has been advised by a "specialist".
And so, the spirit of the Holidays will penetrate me either with joy, if the person who was given the gift will be pleasantly impressed by the wine received as a gift at my recommendation, or with sorrow if I didn't get it right and at the end of the bottle there was a bitter smile, because either he doesn't like sweet wine, or he doesn't like dry wine, or sparkling wine is not part of the shortlist, or… but there's a problem for every solution.
If you don't like the wine you received as a gift on my advice, organize an ad hoc auction and buy what you like with the money you get or donate it to a noble cause.
After going through my suggested list, I still hope you'll save the bottle for a romantic evening, open it at the first event with friends or, by no means the worst choice, make a mulled wine for an evening in warm socks with a soft blanket on your lap at a light movie or talent show.
What wines would I give as a holiday gift?
As a rule, I made the list and left without it. Since smart technology, with the list in the phone, it's much easier. And if I don't know something about the label in front of me on the shelf, there's the internet. Equally, for inspiration, you can consult the list I suggest.
I started with them because no matter how you wrap the bottle when you unwrap the gift and look at the translucent pink of the liqueur, you can feel a sense of well-being, calm, and fantasy. Pink can't make anyone sad, it can bring a smile to anyone's face, from a child to a senior, like a gentle hug in the middle of the road.
Averesti Estates Busuioaca de Bohotin Demisec Diamond Magnum

, pink wine, semi-dry, 1.5 L, 13.5% alcohol. A translucent, bright salmon-pink wine that will most likely delight your nose with rose and red basil notes. The taste may take you straight to the pear orchard, to juicy

Clapp's Favourite

or

Red Williams

. This is a great choice if you're aiming for a menu of seafood, exotic vegetables, and salted pastries. If you're gi

Pivnita Savu – Duchess of Transylvania, Cabernet Sauvignon rose, , a semi-sweet wine, vintage 2020, with 11% alcohol by volume, from the variety called "King of wines", the passionate Savu family offering you a real "dolcesa" (a play on words). It is a wine to offer as a gift around the holidays when there is always a carafe of "homemade wine" on the table. After accompanying the main courses with dry wines, this Transylvanian messenger will bring a touch of luxury at the end of the meal, together with soufflés or cakes with ganache cream.
Domeniile Urlati Editie speciala Feteasca neagra rose 2015,

, a dry rose wine, with 13% alcohol by volume, reminiscent of summer coolness in the glass, being a suave interpretation of the power of the black

Feteasca variety

, from PDO Dealu Mare, in a diaphanous version, with a very light extraction of color, with a taste of fresh red plums, redcurrants, hosta, and currants.
By definition elegant, these wines can't miss from your gift list. Either choose an international variety, to make sure there are no surprises or choose one of the Romanian grapevine varieties that, like spring snowdrops, are starting to poke their heads out into the light.
Jidvei Mysterium Limited Edition Sauvignon blanc, at 0.75 L, with 12.5% alcohol by volume, is a dry white wine, PDO Jidvei, straw yellow, with greenish reflections, with a nose of lime blossom and elderflower, a taste of sour tropical fruits, with a final cough of white flowers, delicate, cooled by the dew of summer mornings is available exclusively at Carrefour, as part of the Open Romanian Wine program.
Caii de la Letea Aligote Reserva, at 0.75 L, with 13% alcohol by volume, is a dry white wine with a floral and citrus aroma, with notes of almond and vanilla. Cold maceration has brought out the minerality in the grapes, and blending has put the yeast's stamp on the wine, resulting in a complex, full-bodied, and intense wine. Maturation for six months in French oak barrels brings forth an elite wine, suitable for a memorable gift.
Crama Telna Colectia 1784 Feteasca regala

, PDO Alba Iulia, at 0.75 L, with 13% alcohol by volume, is a dry white wine that brings to mind the scent of white flowers and the taste of ripe stone fruits with a fine aftertaste of white rose petals.

Gramofon Muscat Ottonel 2019,

PDO Dealu Mare, at 0.75 L, with 14,4% alcohol by volume, is a dry white wine, exposing to the nose white flowers, grape peaches, those small peaches with white flesh, unmistakable aroma, and bitter note on the finish if eaten with all the skin, hints of musk and summer thyme or dried basil flowers crushed between the palms.

Crama Aramic Feteasca alba 2020,

at 0.75 L, dry white wine, with 13% vol alcohol, produced from ripe grapes on Silagiului Hill, in the Buzias area, PDO Banat, has a greenish-yellow color, the unmistakable smell of mallow flowers, with an apricot taste and an aftertaste of naturally ripe citrus fruits. A gift that will cope with any poultry, white fish, or different combinations of salads, without contradicting the salty pastry or the homemade pâté.

Domeniile Franco-Romane Arrogance alb,

a semi-sweet wine, made from

Tamaioasa romaneasca

3/4 and

Feteasca alba

1/4, with 13% vol alcohol and 29,1 g/L residual sugars, PDO Dealu Mare, enriches the basket with gifts of honey, sweet spices, and aromatic herbs. On the palate, ripe quince,

Williams

pear, acacia flower, lavender, peach, and hints of incense and beeswax.

Liliac Nectar of Transylvania,

at 0.375 L, with 11% alcohol by volume, it is a sweet white wine made from

Muscat Ottonel

, obtained from air-dried grapes on natural mats or straws. Smells of elderflower, lime, roses, and sugared fruit. The full taste, rich in aromas of quince jam, acacia honey, candied citrus, and aftertaste of overripe dried orange, holds up the standard for a PDO Lechinta wine.
Strunga Nori de vară – Tămâioasă Românească demidulce,

at 0.5 L,

, it is a semi-sweet white wine, made from grapes picked from Calda Hill. A delicate, modern glass stoppered bottle, to the taste of futurists, it reveals vibrant aromas of basil and incense, harmonized with sweet citrus and honeycomb. Bearing PGI Dealurile Moldovei, it gathers the warmth of the valleys, the mist of the banks, and the coolness of the nights in the hills of the eastern subcarpathians.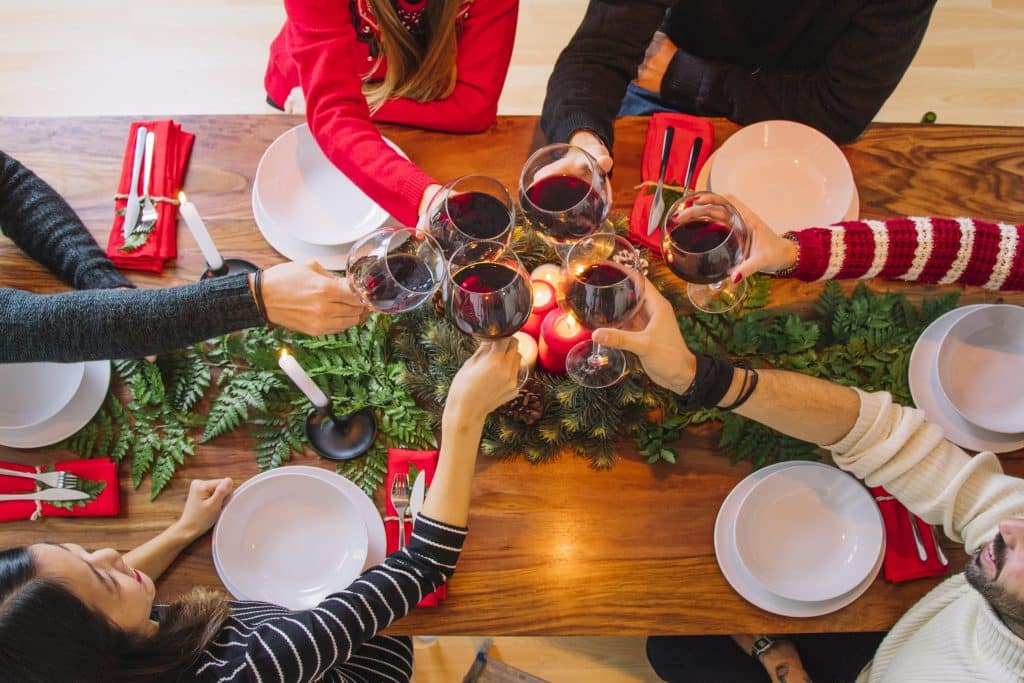 Rich winter meals, when we add to frugal dinners more sophisticated, elaborate dishes because it gets dark early and we don't spend so much time outside, replacing the grill with the soft oven, enticingly call red wines to the feast.
Avincis Negru de Dragasani,

dry red wine, with 14.5% alcohol by volume, at 0.75 L, is received with joy and national pride because it is a variety created by Romanian specialists in viticulture research. Blackberry notes, with acidity supported by alcohol, well-defined tannins, and a specific body, make this wine a formidable partner on the table, alongside feathered game meat dishes.

Crama Apogeum, Apogeum Feteasca neagra 2015,

dry red wine with PDO Dealu Mare. Produced from hand-picked grapes, the wine, of almost perfect elegance, can bring into the glass aromas of plums, blueberries, and blackcurrants, complemented by pepper, cloves, and vanilla. With a long aftertaste, this complex wine will sit proudly alongside fine cheeses and dark chocolate desserts.

Crama Rasova 2020 Imperfect Feteasca neagra,

dry red wine, with PDO Murfatlar, with 14.6% alcohol by volume, shows a brilliant purple color, which has gathered in it all the summer sun. Under the wand of the magician Razvan Macici, fermented with a submerged cap, and matured including 6 months in the bottle, this wine with the taste of blackcurrants, smoked prunes, bitter chocolate, crushed pepper in the mill, with high acidity and notes of ripe cherries, is worth keeping and letting surprise us on a Valentine's Day or Dragobete, in the following years. A wine to keep and look forward to, with the potential for 12-15 years of a good life.

Dealul Dorului Burgund mare 2017 Zodiac

, at 0.75 L, with 13% alcohol by volume, it is a dry red wine, with shades ranging from bloody color to violet, complex, tannic, and full-bodied, with notes of ripe black cherries, blackberries, blackberries and blueberries, specific PDO Banat.

SERVE Cuvee Guy de Poix

, at 0.75 L, with 15.5% alcohol by volume, reveals a dry red wine made from

Feteasca neagra

a mix of well-ripened black fruits, blueberries, black pepper, vanilla, lightly smoked plums, and raisins. Intense red, long-run wine, specific to PDO Dealu Mare.

Aurelia Visinescu ANIMA 3 Fete negre

, at 0.75 L, with 14.5% alcohol by volume, is an iconic dry red wine that should not be missing from your holiday wine portfolio. Created from

Feteasca neagra

from 3 different years, in order to encompass the full complexity of the variety, without being constrained by the annual climatic fluctuations, the wine puts in the glasses of the curious a mix of aromas of plum, clove, saffron, blueberry, blackberry currant, with well-integrated tannins and sustained acidity, lightly barrelled.

Domeniul Bogdan Patrar Cabernet Sauvignon

, 0.75 L bottle, a dry red wine, 13.8% alcohol by volume, with waxed cork, elegantly packaged in a beautiful white box. The wine, from the international variety considered the sovereign of red wines, has excellent aging potential, based on body, tannins, the richness of black fruit flavors, hints of leather, green pepper, and clove notes.

Domeniile Prince Matei – Merlot & Cabernet Sauvignon & Fetească Neagră

2017, 0.75 L, 14.5% alcohol by volume, dry red wine, with PDO Dealu Mare, is a wine that brings together international varieties and local

Feteasca neagra

each of them contributing their particular note to the success of the ~M~ blend, highlighting the Zoresti terroir.
Tohani Wine Chocolate Dark,

at 0.75 L, with 13.5% alcohol by volume, is a semi-dry, deep ruby red wine made from over-ripened

Feteasca neagra

,

Merlot

and

Syrah

wine grapes, with a slightly smoky jam and chocolate flavor, matured in oak barrels.

Crama Rottenberg – Emeritus 2007 Merlot Ceptura,

A dry red wine from the owner's reserve, awarded at the 2011 World Merlot Competition, can be a great addition to the gift basket under the tree this winter. The wine has been aged for two years in Romanian oak barrels. A beautiful combination of Romania's most cultivated black wine grape variety and the wood of our forests' towering oaks.
That's all I'm saying! You won't go wrong if you take a Muscat Ottonel off-dry white sparkling wine from Crama Mennini, from the Irrumo brand.. With 10% alcohol by volume, fine perlage, and the discreet aroma of small-leaf basil, this sparkling wine can open or close any meal, whether sophisticated or not!