Together occupying 500 ha (2022), Cramposie and Cramposie selectionata do not compete, both having their own identity and an excellent mirror of where each of the two grapevine varieties is grown.
Cramposie – Romanian native grapevine variety
In Romania, the area occupied by Cramposie reaches 368.56 ha [ONVPV, 2022]. It is an autochthonous Romanian grapevine variety, prefiloxeric, being mentioned in the literature as follows
Distribution of Cramposie in Romania's counties [data source: ONVPV, 2022]
Cramposie is cultivated especially in the eastern and southeastern counties of Romania. The variety is cultivated in 15 counties, the largest area being in Valcea – 137,54 ha, and the smallest in Salaj – 0,01 ha. An enthusiast wanted to grow this variety in an area where it is considered a rarity (Crisana and Maramures region).
We find Cramposie in 4 areas with controlled designation of origin: PDO Murfatlar, PDO Oltina, PDO Odobesti and PDO Panciu.
Despite Valcea county has the largest area cultivated with this variety, its sister, Cramposie selectionata, was chosen for wines with designation of origin or protected geographical indication, assuming the role of Cinderella and remaining at the level of raw material for white wines, without designation of variety, geographical indication or designation of origin.
A grape with mixed table and wine characteristics, Cramposie is distinguished by the appearance and pleasant taste of the berries, with its elastic and relatively thick skin, being one of the most resistant grape varieties to storage over winter. If the bunches are left on the vines until the rachis is slightly dehydrated, around the end of October Cramposie gains in quality and storage resistance even until May of the following year.
The ancient legends of the Olt riverside inhabitants say that in its place of origin, Cepari-Carlogani, Cramposie was harvested three days after the first autumn frost, when the grapes turned reddish-yellow, with brown spots on the sunny side, and the taste was perfect. This is why one of the variety's synonyms is Carloganca.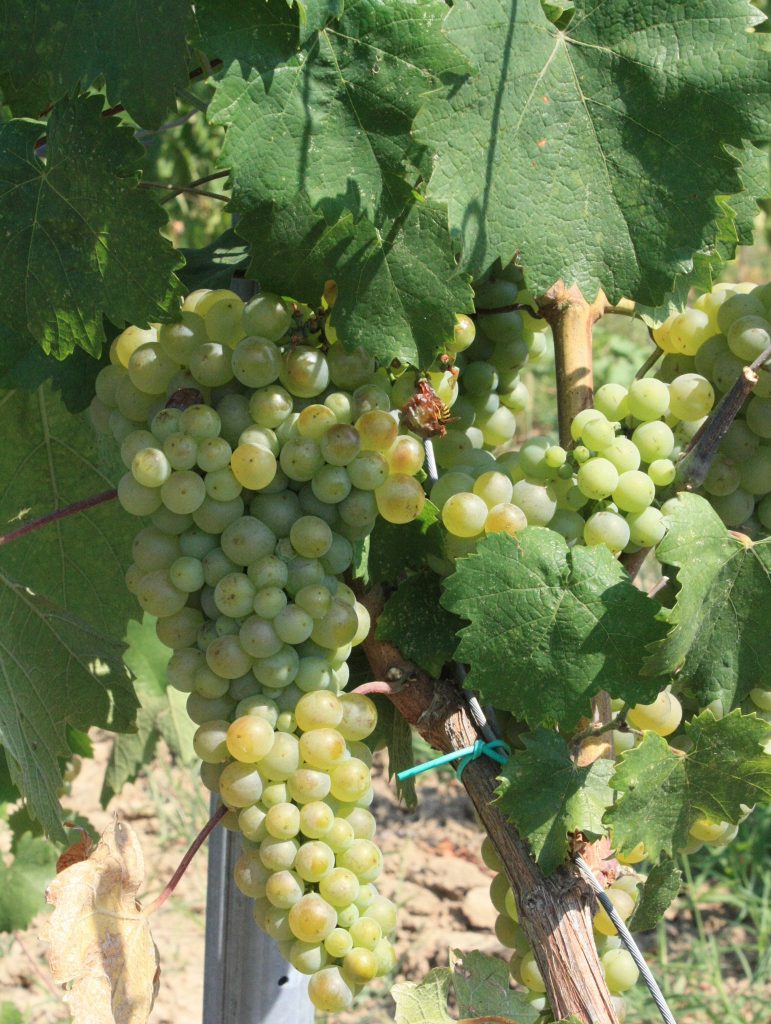 The Cramposie gave strength, Braghina made froth, and Gordan filled the cask
Cultivated in a mandatory technological assortment, to ensure pollination and constant production, along with Braghina and Iordan // Gordan, was part of the basic grapevine varieties in the vineyards of Valcea, which gave "Tulburel de Dragasani"("Dragasani turbid wine"), where the old saying "Cramposie gives strength, Braghina makes froth, and Gordan fills the cask" appeared.
This is how they managed, in a few words, to say that Gordan was a high-yielding grapevine variety, that Braghina had berries covered with pruina on which wild yeasts, much more numerous than in other varieties, were spreading, and that Cramposie brought alcoholic potential to the wine.
An old Romanian grapevine cultivar, too little exploited, to the detriment of its selection, which has been listed in all the specifications, both for PDO and PGI, but without being included in the list of varieties allowed to produce varietal wine
Cramposie wines go well with Romanian dishes with fresh cabbage or venison with wings, but also with refined fish dishes and asparagus or broccoli au gratin.
The dependence on favorable agro-meteorological conditions, especially during the flowering period and especially the need to intercalate with pollinating varieties, led to the need to improve the variety by the positive selection method, which means the selection of specimens with the desired characteristics by the breeder and their vegetative propagation, by grafting.
Thus was born Cramposie selectionata. In the ampelographic collections of research units in Romania there are four varieties with the same single parent: Cramposie, Cramposie aromata, Cramposie selectionata and Cramposie selectionata Stefanesti (the last one, bearing the name of the viticultural research station that improved it). However, VIVC only mentions Cramposie and Cramposie selectionata , which proves once again the need to update the catalog.
Cramposie selectionata – the next level
In Romania, the area cultivated with Cramposie selectionata is 135,45 ha (2022). Selected at SCDVV Dragasani, Romania, the grapevine variety was homologated in 1972.
Distribution of the Cramposie selectionata in Romania's counties [data source: ONVPV, 2022]
Cramposie selectionata is cultivated mainly in the southern counties of Romania, sporadically in the Moldavian region and more substantially in Constanta county. It is cultivated in 7 counties, the largest area being found in Valcea – 66,42 ha, and the smallest in Dolj – 0,08 ha.
Cramposie selectionata is grown in 6 of the 34 PDOs in Romania: Cotesti PDO, Dealu Mare PDO, Dragasani PDO, Husi PDO, Odobesti PDO and Panciu PDO. It can produce from 12,000 kg/ ha in PDO Dealu Mare and up to 19,000 kg/ ha in PDO Odobesti or PDO Panciu.
The molecular comparison clearly shows two different grapevine varieties, each with a certain genetic heritage, which can be disseminated in case of possible crossbreeding to obtain new varieties.
Microsatellites according to molecular markers, in Cramposie and Cramposie selectionata, following VIVC
Cramposie and Cramposie selectionata, in technical data
Wines from the Cramposie sisters recommended by Wines of Romania
Nowadays Cramposie selectionata is renowned both for its still white wines and its sparkling wines that so well mirror the freshness, subtle aroma and personality of the grapes from which they are made.
Sparkling wines
Cramposie Spumant 2013 – Prince Stirbey Winery
Sources:
[1] Ampelografia Romaniei, vol. II, pg. 485
[2] Ampelografia Romaniei, vol.IX, pg. 137