The best wines are those tasted where they were born, and organizing the trip to wineries in Romania can be a memorable experience, especially if you do it while holding a glass of Romanian wine.
The most precious commodity we have in common is time. "How?", "With whom?" and "Where" – the "correct" answer to these questions can give us an unforgettable experience.
When I get to visit a winery, time stands still, I get emotional every time, no matter how many times I've been there, the wines are better and the people behind the glass of wine become even more valuable. In the past three years, I have not visited enough wineries in Romania, compared to what I was wishing for, but I promised myself to remedy this shortcoming, taking any opportunity.
Visiting wineries in Romania, close to my birthplace
Being born in Maramures, Transylvania means being at home for me, an additional reason to take pride in and to praise the wine producers in the area. For two days I travelled to several wineries in Transylvania, along with the team I have been working with for almost 4 years at Deschidem Vinul Romanesc(We Open the Romanian Wine), a national program developed by Carrefour Romania.

The company's CEO, Julien Munch, was part of the delegation, – I also had him as a guest in Wines of Romania's podcast, where he spoke wonderfully about Romanian varieties, our wines and about Romania in general. If you haven't seen it, I invite you to do it now, by accessing this LINK.
La Salina, known for the ISSA brand and one of the newest wineries in Romania
Travelling by plane from Bucharest, the first winery I visited was the winery in Turda, the only winery in Cluj, that you can visit even if you are not a wine lover. At their restaurant, "Sarea-n bucate", you can eat excellently, they have 13 rooms offered for accommodation, they organize events in the vineyard and, on top of all this, they have Ovidiu Maxim as an oenologist, right from day one.
Ovidiu is one of the most modest, diligent and passionate oenologists I know. Eager to find out criticisms first and praises afterwards, with a thirst for knowledge and an inhuman level of patience. In love with Pinot noir, because he likes challenges, and is passionate about Sauvignon blanc andChardonnay – from the latter he also produces a very successful sparkling wine. The Neuburger made by ISSA is also a must-try, an Austrian variety often found, in the old days, at wineries in Transylvania, but very rare in recent decades.
After a journey of almost two hours by car, starting from Cluj, we arrived at Jidvei, a place you must visit at least once in your life, regardless of whether you are a wine lover or simply enjoy life. To fully enjoy it, consider 2-3 days. We started by visiting two cellars out of their eight, the ones in Tauni and Jidvei, we tasted grapes, must and wine, we savoured the passion with which they told us and the joy with which they welcomed us.

During the visit, the oenologist Sorin Burnete praised an aged Feteasca regala from 2009 and I convinced him to open a bottle. During the dinner at the castle, Mr Ioan Buia, the chief oenologist and a living legend of Jidvei, where he has been making wines for decades, presented it with style and elegance, as he does every time. It was the best-aged Feteasca regala that I tasted in recent years.
The experiences at Jidvei are unforgettable, regardless of whether or not you are passionate about wines, wineries or castles.
I knew about the Bethlen-Haller Castle before, but I had not yet slept there until this year, when it was reopened to tourism, after renovation. Now it looks like a Chateau Relais from France or Italy. I rode in Chile through the vineyards of the VIK winery, but I didn't know that Jidvei also offers such an experience.

All the ingredients served at the meals you will have at Jidvei come from the farms on the 5 hectares owned by the Necsulescu family, from garden vegetables and the microgreens from the greenhouse to the animals hunted or raised on the Jidvei grounds.
The body and soul involvement in the family business of sisters Ana and Maria(pride of their father, Claudiu Necsulescu , who dedicated them a collection – Owner's Choice), will certainly contribute to the success of Romanian wine, in future.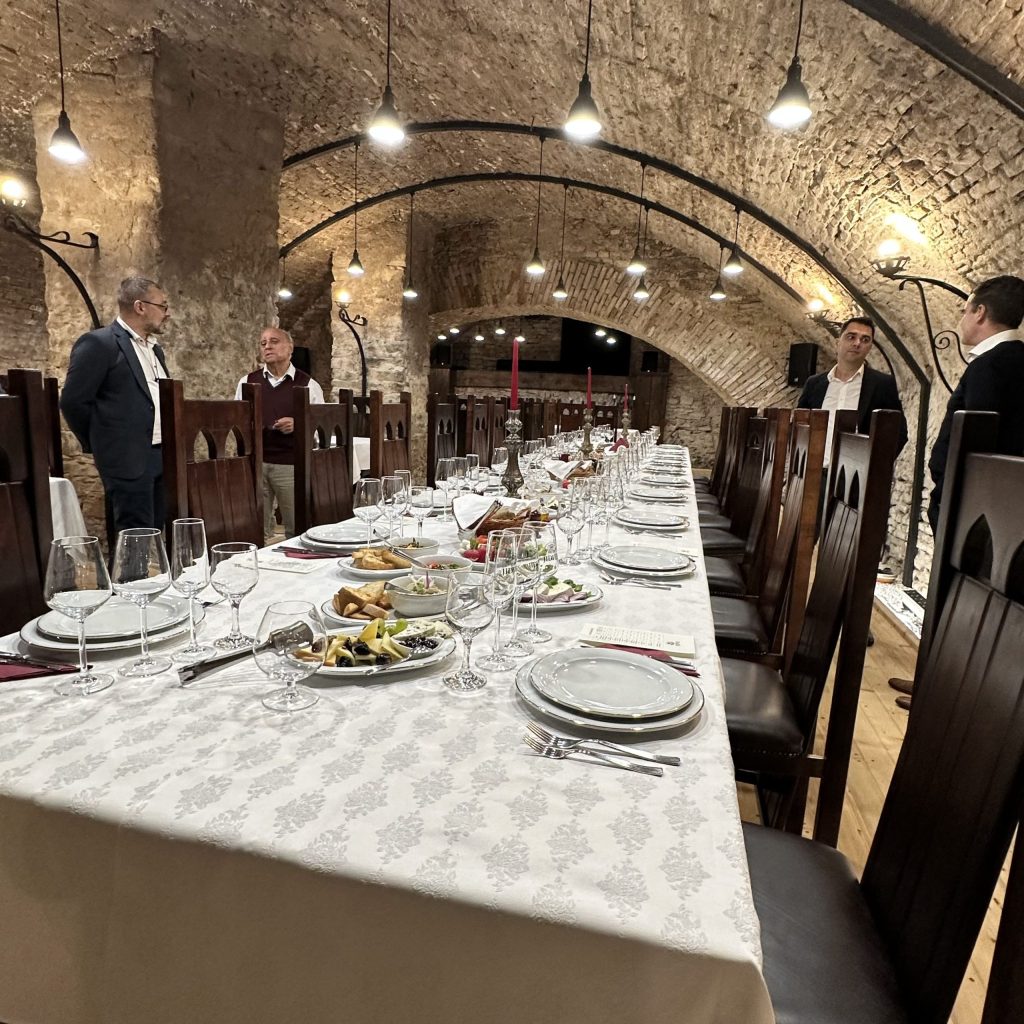 The second day of touring the wineries began in Ciumbrud, with a visit to the Savu family. I met a modest, hardworking family with extraordinary potential. Sergiu Savu, only 22 years old, final year student studying horticulture at USAMV Cluj, welcomed us together with his mother, father, aunt and uncle.
Eager to experiment, talented and hard-working, Sergiu is an ambassador of the younger generations, that kind of people that Romanian wine absolutely needs. Feteasca regala, Sauvignon blanc andChardonnay are just 3 of the varieties that have confirmed the great potential of this small winery.
About wines, tradition and innovation, at home at Domeniul Ciumbrud
After a 5-minute drive, we arrived at Domeniul Ciumbrud, the place where we had the most diversified tastings during this wine tour. We tasted wines, wine-based cocktails, and traditional dishes but also innovative dishes, made from plant-based ingredients.
Florin Danoaie, co-owner and oenologist of the winery, surprised us with his new wines and sold us with stories about the packaging trends – being one of the first in Romania to produce aluminium canned wines.
If you are a wine lover or simply appreciate beauty, plan a visit to our wineries right now and discover why Romanian wine is already a national brand.