Merlot is the most cultivated grapevine variety with black grapes for red wines in Romania, occupying 11,108.71 ha. (ONVPV, 2022) It is said that the name of the wine grape variety comes from Merle, the beautiful Blackbird, with bright plumage, that emits enchanting trills, referring to the intense, deep-dark colour of the grape's skin.
According ONVPV
In Romania,

Merlot

is cultivated in 31 counties, but we have chosen for example only those where the total surface exceeds 300 ha.
In 2021, an area of 11,449.52 ha was cultivated with

Merlot

in Romania, according to ONVPV. We hope that the decrease to 11,108.71 ha in 2022 will be in favor of a Romanian grapevine variety!

Out of 34 PDOs existing in Romania,

Merlot

is allowed in 30, for wines with protected designation of origin, with maximum productions from 100 to 175 q.

We will not find

Merlot

in PDO: Adamclisi, Alba Iulia, Cotnari and Insuratei.

The Romanian black wine grape variety

Mamaia

, created by researchers from SCDVV Murfatlar, Romania, is descended from

Merlot

: [

Merlot x (Babeasca neagra x Muscat Ottonel)

]

The smallest area cultivated with

Merlot

, located in Harghita county, has 0.04 ha

In Romania, the synonyms are allowed for labeling:

Plant Medoc

and

Bigney rouge

,

, according to the OIV 2013 list (number 2115).
Merlot in Romanian vineyards
Curious to taste Romanian Merlot ? We have an indisputably typical series, where the wine grape variety has not only fulfilled its purpose of bringing into the glass a wine with characteristic soft tannins, vibrant color and a taste rich in fruitiness, minerality and acidity that betrays each area from which it comes:
The official passport of the grapevine variety Merlot
According to VIVC:
Merlot noir

, because this is the official name of the variety, is registered with numarul 7657, is native to France, where it is the most widespread wine grape variety cultivated in the Bordeaux region;

Grapevine variety intended for wine production, usually red or rosé, alone or blended with other "nobles", it can also be vinified "in white", just like 'White Zinfandel', resulting in a pale rose wine. When it undergoes treatments to be a clear white wine, it must be avoided the confusion with

Merlot blanc

, a white color variety, which has as its parent the

Merlot noir

.

Along with

Cabernet Sauvignon,

,

Cabernet Franc

,

Malbec

and

Petit Verdot

,

Merlot

is one of the main grapes used in Bordeaux wine;

The old name of the variety was

Cabernet del Cleto

and was registered at 40345;

It has 71 synonyms, the best known of which is

MERLOT

, cited by VIVC in 34 bibliographic sources [1] and used for labeling in 14 countries: Austria, Belgium, Bulgaria, Croatia, Czech Republic, Hungary, Germany, Malta, Moldova, Portugal, Romania, Slovenia, Spain, Switzerland;

Synonyms with which it can be found in the

Vitis

Catalog

:

Merlot black, Merlot blau, Merlot blauer, Merlot crni, Merlot nero, Merlot noir, Merlott

There are 68 institutions that own this grapevine variety in ampelographic collections/ germplasm sources (gene banks)

The breed has a full pedigree and comes from parents proven by molecular analysis:

Magdeleine noire des Charentes (noir) X Cabernet Franc (noir);

It has 28 descendants registered in the

Vitis Catalog

, among which we find both crossings with noble wine grape varieties, as well as the result of interspecific hybridization or resistant grapevine varieties, such as PIWI:

Bruni 452,

which is backcrossing with

Cabernet Franc (Merlot noir x Cabernet Franc); Merlot blanc

(Merlot noir x Folle Blanche),

Terzi 1

(Barbera nera x Merlot noir

);

Margot (Merlot noir x Villard noir); Negru de Yaloven (Merlot noir x V.amurensis

Ruprecht

); Merlot Kanthus (Merlot noir x Kozma 20 – 3)

(PIWI);

Merlot Khorus (Merlot noir x Kozma 20 – 3)

(PIWI);

Merlot

is cultivated in 28 wine-growing countries, the smallest area being cultivated in Dagestan (3 ha) and the largest in France (over 115,000 ha);

Romania was in 7th place, among the largest

Merlot

growers in the world, with 10,782 ha in 2009, according to VIVC. With the updated surface (11,109 ha, in 2022), we will probably still maintain our 7th position.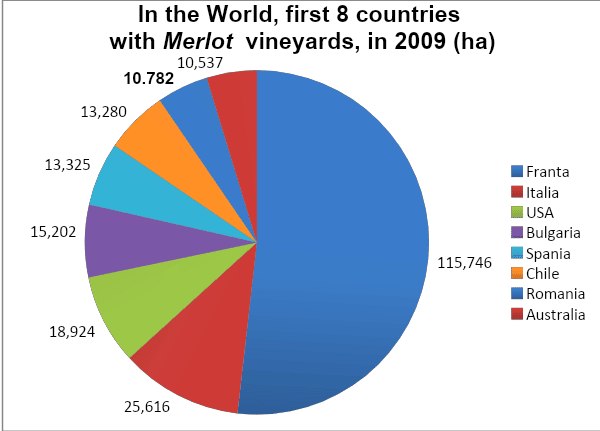 Merlot is a variety with high sensitivity to downy mildew on the leaves, to powdery mildew on the leaves and bunches and to gray rot on the bunches. It is sensitive to excoriosis on young leaves and shoots and extremely sensitive to late spring frosts, especially if it is grown at the base of the slopes, where the cold air stagnates.
About Merlot wine, only good news
Merlot wines are of an intense ruby-red with blue hues, they can have an alcoholic strength sometimes even too high, but with a rich, full and well-defined body. Responding to the chemical composition of the soil, it expresses itself through color and tannins, which on strongly ferruginous soils exposes the consumer to a vigorous and even harsh Merlot at times. Many of these wines have to spend a long time aging in order to 'round out' themselves.
In warm climates (in the classic Napa Valley, Australia, Argentina or in our country, in Dobrogea area, on the Terraces of the Danube or on the Sands of Oltenia) wines with aromas of blackberries, blueberries, plums or raspberries can be made.
The green notes, given by pyrazines, lead to violet leaves rather than their flowers. Perfectly suitable for maturing and aging in oak barrels, the wine lends nuances of vanilla, allspice and cinnamon, followed by chocolate and coffee. [2]
In the cooler areas, such as Saint-Émilion or Pomerol (France), almost the same as in the North of Italy or on the heights of Chile and looking among the Romanian areas, Camar (Salaj) where one of the most typical to the cold microclimate Merlot is made, the wines have an acidity well supported by the multitude of aromas.
In wines with a slightly more delicate body than those from warm areas, we can find aromas of raspberries, black cherries, plums, blackberries, blueberries, sometimes red figs.
The floral notes lead us to iris and violets, and the leafy notes to tobacco, laurel, spearmint, licorice and anise. Through aging it develops aromas of mushrooms, truffles, forest floor, completed by dark chocolate, coffee and sometimes allspice.[2]
Merlot in gastronomic pairings
Like many other noble wine grape varieties, Merlot has its international day. And how can we celebrate it better, other than by placing next to it culinary preparations that increase its qualities.
Merlot wine lends itself to grilled pork and beef dishes, goulash, stews, slightly spicy, half-dried and half-smoked sausages, pasta with red sauce, noble cheeses. It would not be left out next to desserts with cocoa or chocolate.
A glass of Merlot from the Romanian hills and a homemade chocolate can be a late autumn challenge. If we also add a quince sauce to that pork meat forgotten in the oven until it falls off the bones…
References
[1]https://www.vivc.de/index.php?LiteraturverweiseSearch%5Bsynonyme_id%5D=19389&LiteraturverweiseSearch%5Bkenn_nr%5D=7657&LiteraturverweiseSearch%5Bsname%5D=MERLOT&r=literaturverweise%2Flsynonyms&sort=sname
[2] https://winefolly.com/grapes/merlot/