For all those who will have spent two days running between the shops, stoves and ovens, in order to make sure they will spend great moments with family and friends, choosing the right wine depends less on the budget and more on the number of bottles, grape varieties, or the way the foods are prepared. Do you need a wine for each course, or do one or two cover the whole menu? Can there be contradictions in taste? Is it absolutely necessary to buy by the bottle or is it ok to have some bulk wine?
There is no single answer, just as there is no single menu and as personal tastes differ from one person to another. Yes, it is a lot better to buy wine by the bottle or bag-in-box. Bulk wine from unverified sources is not only a lottery, it can even be dangerous for your health. And yes, there is the simple option of just getting a white and a red wine, the first for fresh cheeses, vegetables, white meats, the second for red meats in the oven, regardless of whether it is duck, turkey, pork, lamb or ram.
But, because everything related to the senses is a bit complicated, and an accessible pleasure should never be denied, we decided to offer you this year as well (as we will probably do in the years to come ), a short guide among tastes, complementarities and combinations.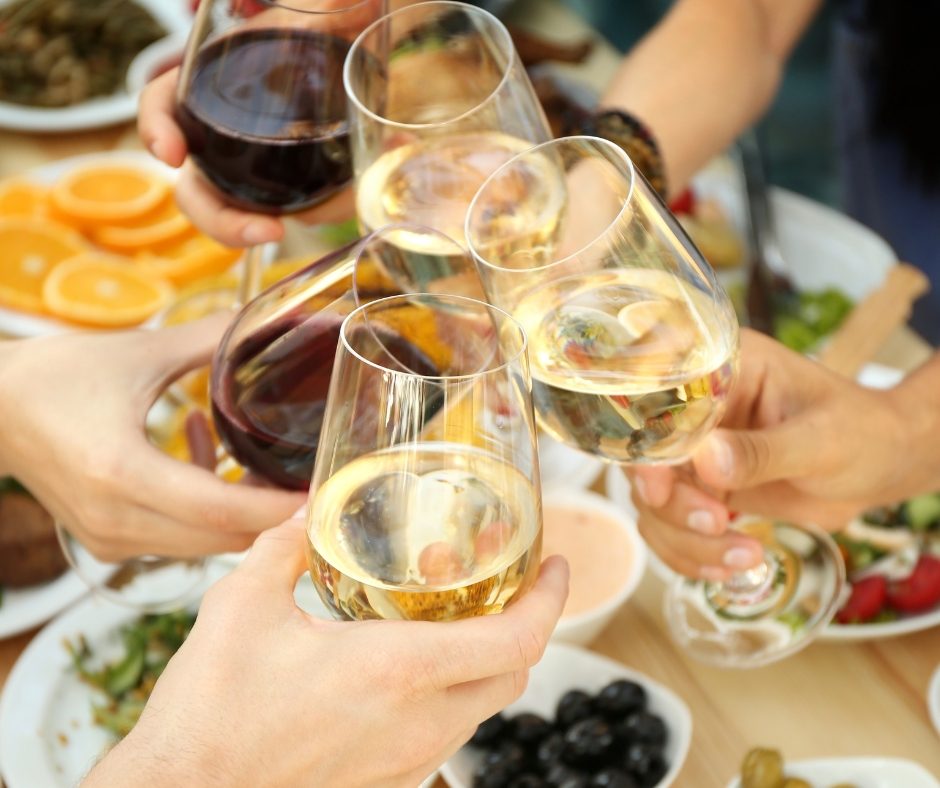 We always start with lighter wines. Usually white
First of all, it's a celebration, and nothing sums up the spirit of a celebration more than the popping of a sparkling wine cork, a field in which things have evolved quickly in Romania in recent years.
We have sparkling wines from traditional varieties that can and should be tasted at any table in the world, and things are developing quickly. So, before you sit at the table, maybe even as a "welcome drink", you can prepare a bottle of Coloviu from Casa de Vinuri Cotnari (Francusa or Tamaioasa, in particular), with Rhein Extra Magnifique Brut (Feteasca regala or Tamaioasa romaneasca), Cramposie Selectionata (Avincis), Clarus from Wine Princess (Mustoasa de Maderat), Quartz (Feteasca alba, Crama Garboiu) or Shine (also Feteasca alba, from Budureasca).
Then, if you are a traditionalist, you will not go over the Easter table without having, at least to taste, a small appetizer with more or less seasonal bites – cheese, green onions, dry-smoked meats, raw vegetables in salads, roe and others.
In general, it is difficult to find a wine that covers all the components, but given that it is only about small amounts, it is good to choose a fresh white wine, with high acidity, that kind that does not make you feel tired. The first option comes almost by itself, Zghihara from Domeniile Averesti, In any version you can find it. But the cheerful Cramposie is not to be forgotten either, and the options at Avincis cover all tastes and demands (from sparkling wine to retail or old wines).
If the starters are dominated by salads with mayonnaise or fattier dishes, you can slide towards towards a more intense Feteasca alba or a Feteasca regala, even one with a bit of oak, but still one from recent harvests, or even a fresh Sauvignon Blanc, especially if you have roe, fish or seafood on the table.
Try: Feteasca alba Vinul Cavalerului (SERVE), Spectrum Feteasca regala from Averesti, Sauvignon & Sauvignon (Budureasca), Karakter Sauvignon Blanc (Aurelia Visinescu), Mysterium Sauvignon blanc & Rhein Riesling (Jidvei), Velier Sauvignon Blanc (Crama Strunga) or Special Selection RR 21 (Crama Strunga).
The road to red wine goes through roses
With lamb borscht, things depend a lot on the recipe. For sour borscht, you need fresh white wines, and you can continue with the wine chosen for the entrees. If the taste is dominated by meat and lovage, you need to switch to a rose, possibly a more complex one, whose components balance each part of the taste.
The Nativa Rose from Domeniile Averesti, made of Merlot, or even a Feteasca neagra from the Geneza Caii de la Letea range from Via Viticola, will fit perfectly. If you manage to get a balanced taste, not too sour, and also not dominated by herbs or proteins, you can also venture towards more delicate rosés, such as Liliac Pinot Noir Rose or La Plage Roze from Crama Rasova ( Pinot Noir, Pinot Gris, Feteasca Neagra and Syrah).
Simple, medium or complicated red wines?
The main course of the Easter meal has been changing in recent years, either according to fashion, or depening on the available resources, or on the temperatures that allowed or not seasonal foods. Sometimes, even the prices in markets and stores end up dictating the central ingredient… Let's take them in order!
The traditional baked lamb calls for more delicate red wines, perhaps a Pinot noir from Domeniile Franco Romana or from Corcova. Grilled lamb ribs require a delicate rose – Primordial Rose from Domaine Bogdan or Caii de la Letea Vol. II (Feteasca neagra, Pinot Noir, Syrah), while the "national vegetable", the pork, needs a more extractive red wine, just like the ram which, in addition, would also require a rustic note.
In short, a structured Merlot (Domeniile Prince Matei offers enough options, both as a pure variety and in blends) compliments the pork steaks rather well, but for any kind of ram you will need a Negru de Dragasani – Avincis or Crama Mennini would be preferable, according to personal taste.
Oven duck on sour cabbage has made its way, slowly but surely, among the Easter options, sometimes because the barrel of sour cabbage must be finished before it gets too warm outside, other times because crispy duck is simply impossible to refuse. Add that it is easier to cook than "sarmale" (meat and rice rolls in sour cabbage), especially when you want a complete menu, from snacks to desserts.
For sarmale, the custom is quite well grounded – a ripe Feteasca neagra, possibly a bit matured in oak barrels, for those made with a lot of meat, rose wines (also from Feteasca neagra) for those with a lot of cabbage and dominated by the salty-sour taste, and young white wines for those that have mostly cabbage, rice and (possibly) mushrooms. For the duck in the oven, confidently choose a red wine that is not very light, but not too heavy either, a 3-5-year-old Feteasca neagra or a younger Merlot, not very oaky.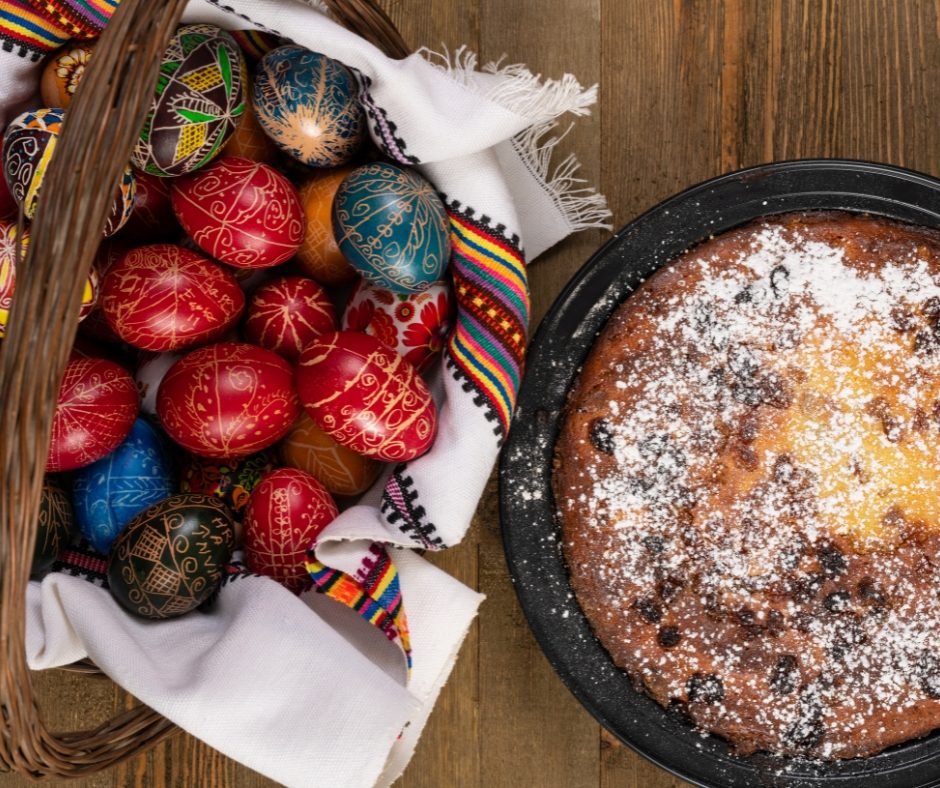 For dessert – semi-dry, semi-sweet or sweet wine?
In case pasca (or paska, in other regions of the Balkans), if it has a lot of sweet cheese and possibly raisins, pairs greatly with a sweet wine, such as the recently launched Traminer roz CIB 2018 from Jidvei or with Busuioaca Diamond from Domeniile Averesti. Another recently released must-try wine is Opus Fabula Maximus from Gramofon, a semi-sweet black Feteasca aged in oak barrels, which pairs well with chocolate (so obviously also with cocoa cream cozonac), as well as with fine cheese and cream fillings.
If you a "grown" pasca, with more dough and less cheese, pair it with an aromatic, drier wine, possibly even the same wine that you pair with cozonac – a dry or semi-dry Busuioaca, as well as a Tamaioasa Romaneasca.