Pentru a treizecea editie, the World Concours of Brussels will move to Croatia.
The town of Poreč, located on the Istrian peninsula, will host the main tasting session of the competition dedicated to red and white wines. The tastings will take place on May 12, 13 and 14, 2023. Concours Mondial de Bruxelles is one of the most important events of its kind in the world. Over 10,000 wines are submitted by the producers to be tasted and evaluated by a jury of experts. Experienced tasters judge competing wines with a purpose to select wines of impeccable quality.

Istria, Croatia's largest peninsula, is a cultural melting pot and a land of contrasts, due to its geographical location at a point where three countries meet: Slovenia, Italy and Croatia. The people of Istria have historical connections with grapes and wine production. The region is famous for its wine production, including the iconic wines of Malvasia and Teran. The wine-growing part extends to the westernmost part of Croatia. In the area, both local and international grape varieties are cultivated to produce wines that cover a wide range of styles. Throughout its hectic history, the peninsula located in the north of the Adriatic has belonged to several countries. These different periods have negatively influenced the development of the wine industry in the region, despite the tendency to produce high quality wines. Currently there are 4,000 hectares planted with vines, compared to 44,000, before the phylloxera period. The fall of Yugoslavia led to the decline of state cooperatives producing table wines. During this period, producers focused on quality began to appear, who modernized the wine farms to produce more concentrated and complex wines.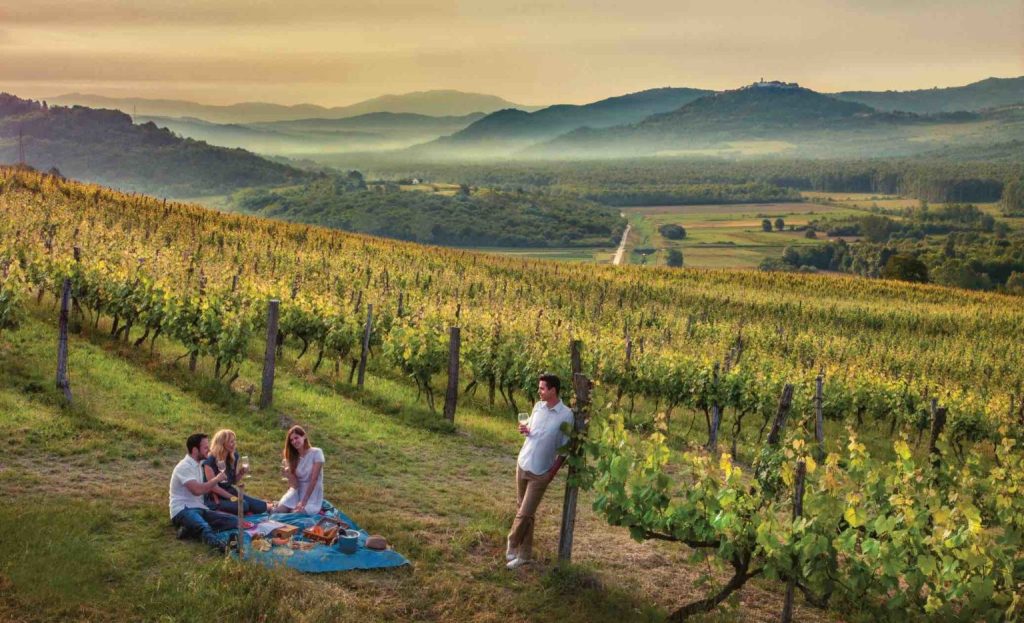 The variety of soils – from the red one, along the coast, to the white, inside – adds another dimension to the vine culture. The best known and most cultivated grape variety is Malvasia Istriana. The red wines obtained from Teran and Refosco are traditional products in the region, and many wine enthusiasts from Istria are fans of Muscat. The wine road from Istria, sprinkled with numerous wine cellars, offers some memorable experiences.
With an old experience in winemaking, a well-established wine culture and recent investments, Istria is a remarkable wine region, and the fact that it will be the host of the World Concours de Bruxelles provides additional proof in favor of the region's potential.
The old fortified town of Poreč hosts many Roman, Gothic and Venetian vestiges and monuments. Among them is the Euphrasian Basilica of the VI century, which dominates the city, being a kind of pearl of the crown. The Christian church is included in the UNESCO World Heritage Site and offers visitors, among other treasures, magnificent Byzantine mosaics. Istria is one of Croatia's major tourist areas, and the city of Poreč offers a wide range of tourist infrastructures, ideal for welcoming and hosting the referees of the competition.
Photo: Concours World of Brussels